3 Great Ways to Play Publicly Traded Startups
When it comes to individuals making money and redefining the future of the economy, nothing yields more value or creates more jobs than new startups.
And generally speaking, no startup has more promise than a tech startup.
Reasons abound for why tech startups tend to be more successful than their counterparts. One reason is that their costs tend to be lower, since they usually don't produce a physical good. The lower the costs, the longer they can last. And the longer they last, the better their chances of success.
I'm not the only one that thinks tech startups are some of the best investment opportunities that exist. They are gaining momentum on and off the stock market.
According to TechCrunch:
"Early-stage funding by angels and venture capital firms is growing in size and impact on the technology industry.

"Last year, U.S. venture capital firms raised 10% less than in 2012, but VC funds focused on early-stage investing raised $9.37 billion, a jump of 51%, according to DJX LP Source…

"151 early-stage firms closed funds — more than in the last dozen years."
TechCrunch also cites the shift in the National Venture Capital Association's (NVCA) performance benchmark, stating that:
"Investment returns among early-stage venture capital funds are starting to outpace late- and expansion-stage funds."
What's more, this is a global trend.
All right, so we know that tech startups are the place to be. But investing in them can tricky. Why? Because like any good thing that gains momentum, scammers and con artists set up their posts in order to exploit increasing interest.
Let's look at some of these scams, so you can better protect your wealth. Then we'll give you some strategies you can use to counteract these scams.
Let's start with what is perhaps the most familiar place where stocks get manipulated… the over-the-counter markets.
The Wolf of Wall Street is back. But this time, he's got an Internet connection.
Data tallied from the last couple years show that penny stock promoters have been pumping and dumping like clockwork. And you're the target.
"Spam messages hyping penny stocks are multiplying, accounting for 16% of unwanted email in 2013, up from less than 1% the year before," MarketWatch reports.
"Regulators also charged five penny-stock promoters [last month] for schemes to inflate share prices to feign market interest, including two cases that involved plans to send email blasts." Lately, these schemers have been out full force…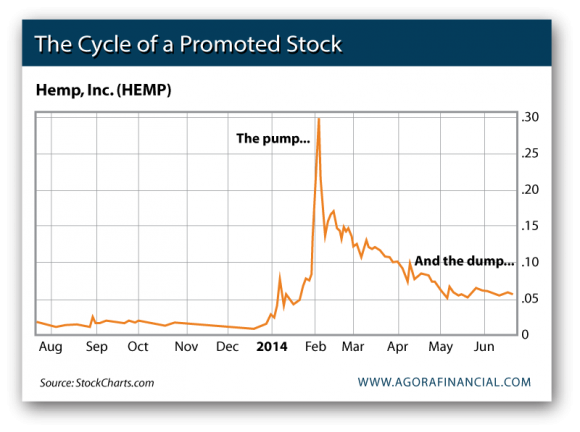 Recently, the SEC and the Financial Industry Regulatory Authority said stock spam has kicked into high gear, according to MarketWatch, representing the "inbox equivalent of a boiler room sales operation."
Here's the irony (and the good news, up next).
The irony is that the more these stocks get attention from the financial media, from sites that anybody searching Google can access, the more these "story" stocks feed into the "pump."
That's one reason why our microcap expert, Thompson Clark, swears by only having small teams of exclusive readers who can invest in any one recommendation at a time. The smaller the team, the less these small stocks can accidentally or purposefully be exploited.
Thompson sifts through what his publisher calls "the filth in the over-the-counter market" in order to "dig up the few ideas he finds worthy of a serious investment."
The good news: "He even uses microcaps' shady reputation to his advantage…
"Think about it this way," Thompson explains. "The average perception of microcaps is that they're 100% full of scam artists and shady promoters. If that's the case, then there must be a lot of promoters… there are currently over 7,500 listed microcap stocks in the U.S. alone.
"As long as the average investor thinks microcaps are rife with frauds, I'll continue to recommend my readers invest in them. The less competition, the better."
More on that later…
Next, let's look at how to protect your active interests in tech startups through private ventures on the public exchanges (sound like an oxymoron? Just wait…)
Yes, people are running out of so-called penny stocks, even though some have great breakthrough technologies in their pipeline. And that means fewer competing investors for you, if you know what you're doing.
But this trend also begs the question: Where are investors going instead?
We're seeing investors leave the public stock market. And more value is being created while companies are still private. Again, this is a global phenomenon.
You see, historically, companies needed to go public to access large amounts of money. Not so anymore.
Companies like Google and Apple acquire a private company nearly every month.
Mega-funds, VCs and hedge fund managers are all doing the same. They're leveraging deep pools of capital for private companies. Of the 100 largest venture capital rounds ever raised, 88 happened within the past five years. Each round was north of $50 million. That's a relatively new and highly attractive environment for a private company.
So what's our investment opportunity? The halfway point: private companies, bundled on the public exchanges.
Publicly traded startups are a very simple way for you to invest in some of the most promising early-stage companies on the planet. What you do is…
Buy a type of stock known as a business development company.
Business development companies (BDCs) are basically publicly traded private equity funds. As our private equity guru and Tomorrow in Review contributor Wayne Mulligan says, "[These companies] invest passively in other businesses. And they distribute 90%-plus of their profits to shareholders.
"Think of it like a mutual fund or a REIT. Except BDCs don't invest in public stocks or real estate. Instead, they invest in private businesses.
"There are three main types of BDCs," Wayne outlines:
Value Focused

: These BDCs generally invest in mature companies with long-term operating histories. Investments are considered lower-risk and lower-reward

Income Focused

: Some BDCs invest in companies in order to generate income. Again, this is generally for more mature businesses that are throwing off cash and profits and can therefore pay special dividends to the BDC

Growth Focused

: Growth BDCs will invest in more speculative opportunities.
Recently, Wayne found a new type of growth BDC that has emerged.
It invests in high-growth startup companies. The largest and most widely followed is GSV Capital Corp. (NASDAQ: GSVC).
In addition to GSV Capital, investors can also look at Firsthand Technology Value Fund (NASDAQ: SVVC). It's less of a growth play than GSVC, but it's less risky.
Now anybody can get in on these "publicly traded private companies."
Best,
Josh Grasmick
for The Daily Reckoning
P.S. The people who are taking the risk and starting new companies with new innovative solutions that could create value for individuals, wealth for the economy and new jobs… are those people who are building a brighter future and taking savvy investors along for the ride. These are the types of opportunities covered daily in the Tomorrow in Review e-letter. To make sure you never miss a single great investment story or any of the amazing opportunities that come with them, sign up for the FREE Tomorrow in Review email edition, right here.