A Way for You to Buy a Stock Before it Goes Public
During the spring growth-stock swoon, spooked traders kicked initial public offerings in the gut.
No one wanted to gamble on the market's newest stocks. In fact, the 16 IPOs that hit the market while growth stocks plunged in April averaged a first-day return of 0%. Ouch.
But hey, that was weeks ago. Now that the market has reclaimed its lost momentum, it's time to toss some cash at these new tickers, right?
Maybe not…
"The worst thing you can do is buy an IPO on Day 1," says my trading buddy Jonas Elmerraji. "On a stock's first trading day as a public company, prices are often more strongly swayed by those hopes, dreams and anxieties than the business itself."
If you want to get in on some of the market's newest offerings, patience is required (that is, if you actually want to make money). Jonas' long-standing advice to his readers is to wait for the dust to settle on an IPO. If you let the excitement of the first few weeks or months settle—and allow the stock to get a little price history—you have an excellent chance of getting in after the panicked masses have already taken their lumps.
Of course, this cautious strategy isn't going to clog the IPO pipeline. New filings continue to hit the market, with tech, energy and biotechnology companies leading the charge…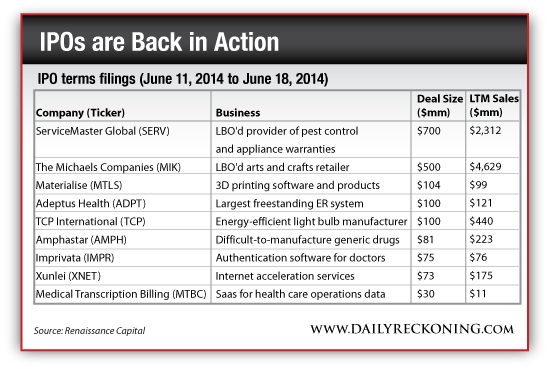 "But there's another way to make money on IPOs," Jonas continues. "Much more money, in fact."
Jonas has uncovered a way to invest in some of the most lucrative companies out there before they go public. Usually, opportunities like this are available only to accredited investors — with a net worth of at least $1 million in the bank or an income of $200,000 a year.
Don't have that kind of money burning a hole in your pocket? No worries. Jonas actually has a way for you to get in on the next high-profile IPO before other investors, even if you aren't a member of the 1%.
You see, a few savvy Silicon Valley venture capital pros started a firm that lets you play private companies and potentially make absurd profits when they go public.
"In short, they created a way for regular Americans like you and me to level Wall Street's playing field and trounce the bankers," Jonas says.
Regards,
Greg Guenthner
for The Daily Reckoning
Ed. Note: While underwriters continue pushing their flashy IPOs out the door, Jonas has a way for you to bypass the hype and start banking gains. Sign up for the Rude Awakening for FREE today to see how you can trade these trends for huge gains…