A Cheap Comeback Play on the Russian Standoff
You know how they say you should buy when there's blood in the streets?
Well, you should also buy when the tanks hit the streets…
Just this morning, NATO's secretary general said there are "no signs" Russia is respecting its commitments over Ukraine, reports the Associated Press. No one really seems to know what to do about the situation—but media reports claim the cease-fire between the Ukraine and pro-Russian separatists could collapse soon.
The hysteria torpedoed Russian stocks earlier this year. Back in March, White House Press Secretary Jay Carney even told the American people that he wouldn't invest in Russian equities… unless he was selling short.
Of course, this reckless political posturing was the perfect secret buy signal for Russian stocks. Since Russian equities carved out a bottom in April, shares are up more than 24%. As of yesterday afternoon, the MICEX Index (which tracks the 50 largest and most liquid Russian stocks) had all but recovered from its late winter swoon…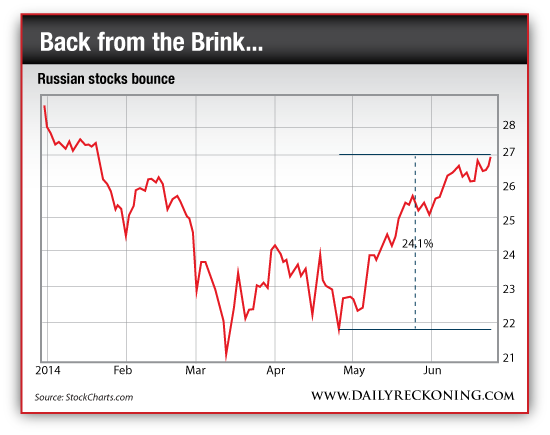 Since March, Russia has become the market's ultimate contrarian play.
The Crimean crisis helped set the stage by making Russian equities dirt cheap. At the height of the crisis, the MICEX Index carried a trailing P/E ratio of just 4.30. As a reference point, the S&P 500's P/E clocks in at about 19.3.
So we have a play here that's cheap and has an intriguing chart that is ripping off its lows. During the height of the crisis, the Market Vectors Russia ETF Trust (NYSE:RSX) briefly dipped below its 2012 lows. However, Russian stocks have made a sharp recovery since March. Keep an eye on this space as the story progresses…
Regards,
Greg Guenthner
for The Daily Reckoning
P.S. While plenty of uncertainty remains around how the standoff between Russia and the Ukraine will play out, patient traders who can handle the volatility stand to book substantial gains. Sign up for the Rude Awakening for FREE today to see how you can trade these trends for huge gains…