Big Names That Deliver Reliable Gains
Most investors believe they have to load their portfolios with small, obscure stocks to have any chance at beating the market.
Don't get me wrong– carefully selected small stocks can deliver impressive gains. But when market conditions are just right, you have the chance to book outsized returns by playing some of the biggest, most recognizable stocks on the market.
This year, Wall Street's mega-cap tech names are among the best longer-term trades you can make. The bigger, the better…
Today, I'm going to talk about the "Big 3" tech names you should consider for longer-term trades. I don't care that these stocks are household names. You shouldn't either. All I care about is the fact that these stocks are in the perfect position to deliver worry-free returns.
First up is Apple Inc. (NASDAQ:AAPL). Back in January, I called Apple a potential "trade of the year" candidate. And after a few months of sideways consolidation, Apple stock finally shot higher. It's completed all the hard work already. The stock has already bottomed out and trended higher since July 2013. Now, after a stock split has priced shares at $90, I have a feeling more investors will pile into this name thanks to the lower share price.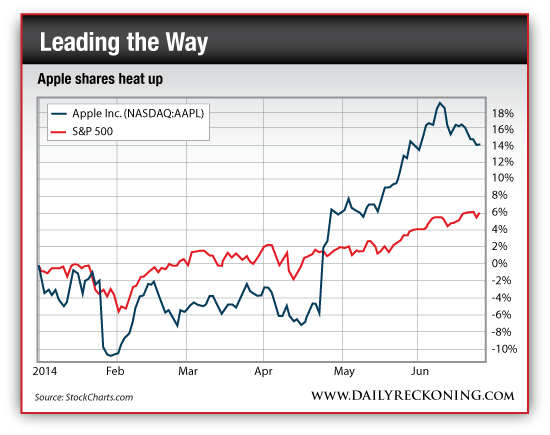 Next up is Google Inc. (NASDAQ:GOOGL).
Google isn't just the king of the internet. It's also the company of the future. Google has its hand in self-driving cars, automated homes, ultra-fast wireless connections and plenty of other cutting-edge industries.
What I like most about this stock right now is its little secondary breakout above $580. After breaking free of its downtrend in May, Google is now showing us that it wants to attempt to take out its February highs. After what turned out to be a rough spring for this stock, it's setting up beautifully for a longer-term trade this week…
Then there's Microsoft Corp. (NASDAQ:MSFT).
Now I know you might think Microsoft is a "grandpa" tech stock. But you can't let reputations like this impact your judgment. In reality, Microsoft looks fantastic this year. In fact, this stock is actually just a couple of bucks away from its all-time highs set all the way back in 1999…
Also, Microsoft shares are up nearly 14% since January 1st, easily topping the S&P's 6% gains so far this year. While other tech names dropped in April and May, MSFT held its ground. It now has one of the cleanest uptrends in the group…
If you are looking to grab shares of any of these companies for a longer-term trade, it's important to give the stock plenty of room to work. Don't set a hard stop just below your buy price. Some of these trends aren't perfect. Give these trades some leeway and enjoy the gains.
Regards,
Greg Guenthner
for The Daily Reckoning
P.S. And if you want to know about a few under-the-radar names, sign up for my FREE Rude Awakening email edition. Inside each issue I give readers a chance to discover some of the world's best stock picks. Sign up for FREE right here to learn how you can discover those opportunities for yourself.