One Major Sector You'd Be Crazy to Ignore Right Now
I have to set the record straight with you when it comes to the shale boom and America's energy comeback…
I've read your notes—and I understand that you're skeptical of shale, its staying power, and even its potential impact on the economy.
That's why I wrangled our in-house energy expert Matt Insley this morning. Matt has the inside scoop on the life-changing profits waiting for you…
"Over the past 10 years, the U.S. has gone from a country that was expecting to import massive amounts of oil and gas — to a country that's sitting on massive supplies of oil and gas, right under our own soil," Matt explains. "There's real wealth flowing from the ground to everyday investors."
Still hesitant to believe America's energy comeback? Maybe I can knock some sense into you.
Here are two stats that you need consider…
1. In 2015, the U.S. is set to be the world's leading crude oil producer, surpassing Russia and Saudi Arabia. No. 1… in the world. This is a prediction Outstanding Investments editor Byron King made in his "Remade in America" presentation… and it's coming true sooner than we could have imagined.
2. By 2019, according to the Energy Information Administration, the U.S. will surpass its 1970s crude oil production peak. We're going to be producing more oil than EVER here in the U.S.
"I could not be more excited about this," Matt says. "Indeed, next time you fill up your gas tank at the local station, don't think about Saudi Arabia, Nigeria or Russia. Instead, think about Texas, North Dakota, Oklahoma, Louisiana and even Colorado! These are the oil plays that are making a difference today… and will continue to do so for decades."
Matt and I both like the service companies — Halliburton (NYSE: HAL), Baker Hughes (NYSE: BHI) and Schlumberger (NYSE: SLB). These are all solid bets on the shale boom when it comes to longer-term investments…
But the real money could be made at the next "big find". Recently, Matt was out west, looking at what could be the next big deposit here in the U.S– in Colorado, of all places.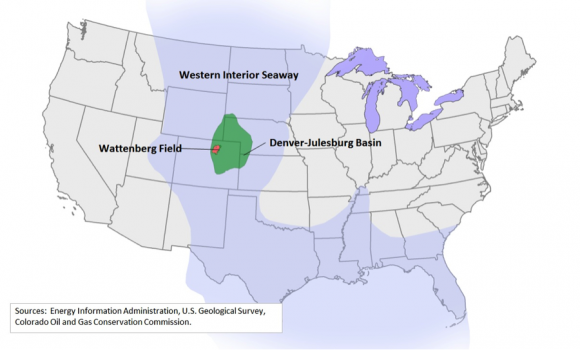 "The field I'm looking at now, east of Denver, is called the Wattenberg field. It's part of the Niobrara shale play. It's an up-and-coming shale zone that's not on most folks' radar," he says. "I've dubbed this area the 'baby Bakken' — because within the next few years, we could see an increase in crude production similar to what we saw in North Dakota. By some estimates, Colorado could soon be the third-largest oil-producing state in the U.S."
Regards,
Greg Guenthner
for The Daily Reckoning
P.S. To say that little-known companies are going to profit from this is an understatement. Sign up for the Rude Awakening for FREE today to see how you can trade these trends for huge gains…