Instant Gains from a $1 Trillion Market
Today, you have a shot at a $1 trillion market.
It's hidden in plain sight. And over the next few months, this red-hot trend has the power to deliver you overnight double- and triple-digit gains — perhaps many times over.
Here's how…
As the market slowly churns higher this year, bigger companies are snatching up smaller competitors for big premiums. And these acquisitions are tossing instant gains into investor's accounts…
Merger and acquisition activity is heating up in 2014. So far, we've seen almost a trillion dollars in deals announced in North America this year – that's a 79% increase over last year.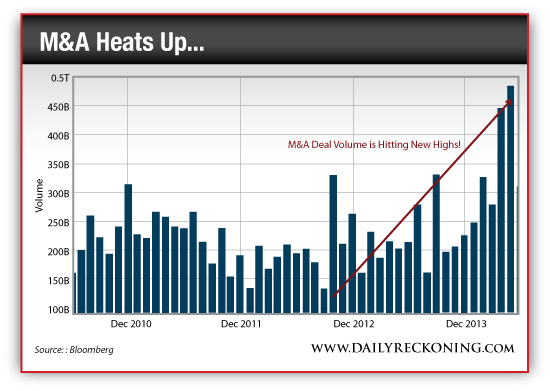 Why the bum-rush for companies to buy other companies?
Remember, stocks were on a rampage this time last year. But the rally slowed down at the start of 2014, and then corrected pretty hard coming into this summer.
"Suddenly, big firms were sitting with all-time record cash on their balance sheets, noticing that lots of attractive businesses are suddenly looking cheap by comparison. It's a recipe for a buying frenzy," explains our small-stock expert Jonas Elmerraji. "And the tiniest stocks on the market are the best place to be right now. After all, small stocks make easy acquisition targets for big cash-rich companies. They're also the only corner of the market where I've been able to find dirt-cheap bargains that Wall Street has overlooked – I'm talking bargains like a $7.50 stock that currently has $3.32 per share in cash."
Jonas is hot on the M&A trail this year — and he thinks we're really going to see a lot of M&A activity in small stocks this summer. In fact, the group of folks that follows his small-stock research has already watched one of the names in his model portfolio — Fusion-io (NYSE:FIO) — get a buyout offer for $1.2 billion in cash earlier this month.
"Put simply, big companies are buying small companies because they have no other options. Interest rates are low – practically zero. The economy is experiencing hiccups. Investors are getting nervous about how much higher the S&P 500 can go," Jonas says. "And firms have more than $1.25 trillion that their investors expect them to put to good use. The best option out there is to buy attractive small-cap companies and grow their businesses through acquisitions."
It's truly a recipe for a buyout bonanza.
And Jonas' readers are really well positioned to grab onto that trend in 2014. That's why he just scoured his entire portfolio to pick out five names that I'm recommending my readers buy this month.
"Right now, we're sitting on open gains as high as 100%, 238%, and even 1043% on some of our longer-held positions," Jonas continues. "But I think that the five names holding as a 'buy' in our portfolio could match that performance in the next couple of years – or even beat it!"
Regards,
Greg Guenthner
for The Daily Reckoning
P.S. It's an exciting time to be a small stock investor, that's for sure. And the next huge winner could be sitting in your portfolio by the end of the day… if you know where to look. That's where the FREE Rude Awakening email edition comes in… Every issue features several chances for you discover expert research from some of the industry's leading analysts — and all the stock picks and potential profits that come with them. Don't miss out on another great recommendation. Sign up for the Rude Awakening for FREE today to see how you can trade these trends for huge gains…