Why a Car is the Best Investment You Can Make Today
Billions of dollars in auto recalls getting you down?
Maybe it's time to buy a new car…
Out of all the economic data released so far this week, nothing stands out more than auto sales.
That's right, consumers have found their way back to the car dealerships. After plodding along for years, the big automakers are finally seeing the light at the end of the Great Recession's tunnel…
June auto sales were up 1.2%. While that might not seem like much at first, industry analysts were expecting a 3% decline. Oh, and the annualized sales rate hit 16.98 million vehicles. That's the best reading since July 2006, according to Autodata Corp.
Toyota, Nissan, and Hyundai all reported year-to-year increases, according to Reuters. Even the Big 3 are topping expectations.
The First Trust NASDAQ Global Auto Index Fund (NASDAQ:CARZ) broke out beautifully yesterday. It's now at all-time highs (the fund was started in 2011).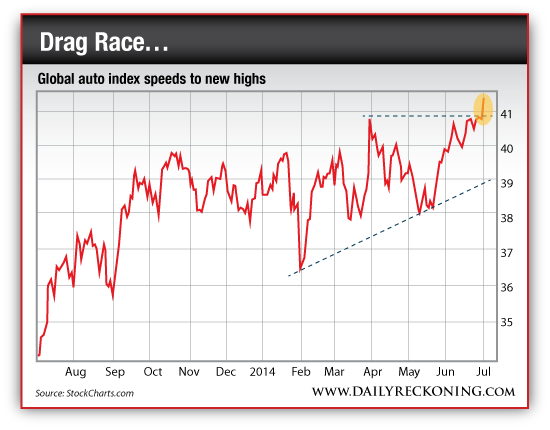 So what the heck is going on here?
What you're seeing is a situation where a slow economy has held down car sales for years. Just look in your neighbor's driveway. Chances are he's still driving that beige Ford Escort with the dented fender he bought back in 1996…
In fact, the average age of cars on the road in the U.S. is at a record-high average of 11.4 years, according to Polk. Everyone's coaxed their ailing rust buckets along through a soft job market and lukewarm economy. But interest rates are low and employment is improving. Something had to give.
Even with General Motors recalling 40% of its vehicles on the road today, sales are screaming higher.
You've probably seen the recall disaster that's plaguing GM right now. Almost every day, a new recall is announced. In fact, earlier this week, shares were halted midday while the company announced six new recalls. It's getting ridiculous, with GM now expecting to take a charge of up to $1.2 billion in the second quarter alone.
But even with the bad news looming, General Motors' U.S. auto sales were up 1% in June. Analysts were expecting a 6.3% drop. So throughout the recall madness, consumers are actually buying more GM vehicles. And yes, many of these sales have come after recalls were announced.
Regards,
Greg Guenthner
for The Daily Reckoning
P.S. As you can see, not even disastrous recalls can hold car sales back. As consumers rush to replace their rust buckets, car sales will continue to impress. Sign up for the Rude Awakening for FREE today to see how you can trade these trends for huge gains…