Unexpected Turnaround for One Beaten Down Commodity
2014 has been a year of quiet commodity rallies.
The CRB Index, which tracks a large, diverse batch of commodities, easily whipped the stock market's first-half performance. While the S&P 500 gained above 6% during the first six months of the year, the CRB put up double-digits gains.
Now, it's time to trade a metal that's flashing a powerful (and unexpected) breakout…
Back in March, I offered you a play on two metals. I suggested you buy palladium—and sell copper.
Why? Let me set the scene for you…
Copper futures had just dropped below $3 for the first time since 2010. Chinese stocks, which have strong correlations to copper, were trending lower. Even though Dr. Copper hadn't been a great barometer for U.S. stocks over the past couple of years, it holds sway in Asia. Things weren't looking bullish, that's for sure.
But I was only half-right. Yes, palladium has been a great trade (both long- and short-term). But copper's trip below $3 was short-lived. The good (and sneaky) doctor fooled us with a false move lower. By early April, copper was making its way higher once again.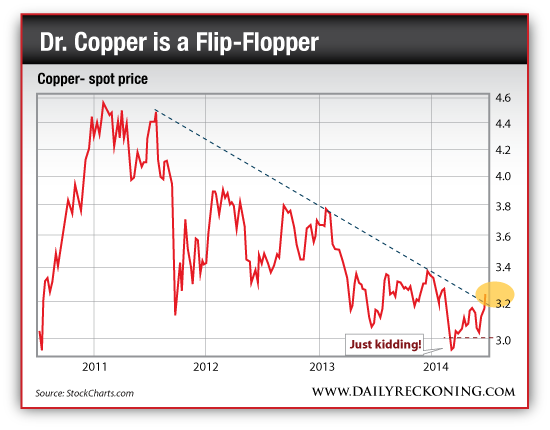 Yesterday's move looks like a huge buy signal for Dr. Copper. The metal has slowly trended lower since it peaked near $4.50 in 2011. But yesterday's move was incredibly telling. Not only did copper jump nearly 2% on the day—it also cleared critical resistance, breaking the downtrend that has trapped the industrial metal for nearly three years.
Just as copper is on the ropes, it fights back with a vengeance. While copper isn't the final word on the strength of the world economy, its swift rise is reflecting better-than-expected economic data that has been trickling in across the globe…
"The rise in copper carries a lot of implications for the direction of commodity prices, copper shares, and the global economy," John Murphy reports over at Stockcharts.com. "Strong global manufacturing data increases the demand for copper which is a play on global strength. This week's stronger manufacturing data in the U.S., UK, Japan, and China are giving it a big boost. Today's copper gains are most likely coming from strong data out of China, and a strong Chinese stock market. Copper is also getting a boost from strong data in autos and homebuilders, which are big users of the industrial metal."
Regards,
Greg Guenthner
for The Daily Reckoning
P.S. Copper is a buy here. This breakout could be the beginning of a huge move higher. Sign up for the Rude Awakening for FREE today to see how you can trade these trends for huge gains…