How to Fake Your Way to Comeback Gains
As any soccer fan will tell you, embellishing injuries—usually called "flopping"—is all part of the game. And the country guilty of the most flops during the World Cup?
That would be the host nation: Brazil.
"There were 17 incidents in two games when a member of the Seleção was seen on the ground in pain—the most of any country," explains Geoff Foster over at The Wall Street Journal's "The Count" blog. "World Cup poster boy Neymar had five such 'injuries,' the most on his team. In every case he was back on his feet within 15 seconds."
So Brazilian soccer players like to ham it up after getting kicked in the shins. Big deal.
On the other hand, Brazilian stocks haven't caught anyone's attention—even though they've been flopping for years…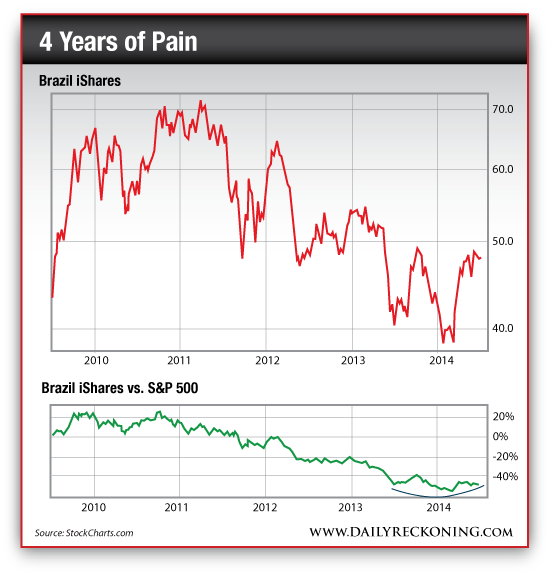 Since 2011, Brazilian stocks have steadily trended lower. Over the past three years, the Brazil iShares (NYSE:EWZ) has dropped by as much as 45%. Over this same time period, the S&P 500 has jumped higher by more than 46%. It doesn't take a stock market genius to tell you which of these investments has won out since the financial crisis…
However, Brazil looks like it's ripe for a comeback.
Consider the fact that throughout all of the World Cup madness—along with the bad publicity painting Brazil as a corrupt, ill-prepared host plagued by problems ranging from crime to income inequality—Brazilian stocks have streaked higher. EWZ is up nearly 10% year to date, compared to the S&P's gain of just about 7%…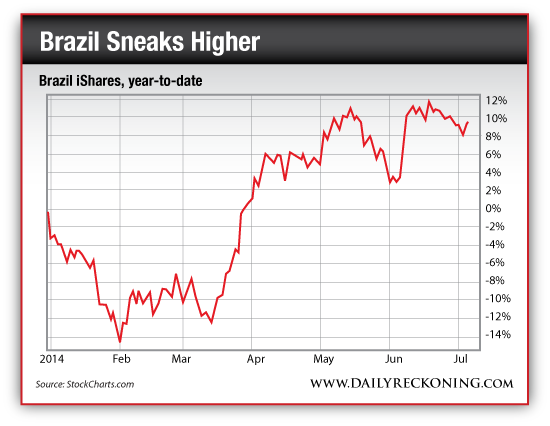 Back in April, I called emerging markets like Brazil the best potential comeback story of the year. Remember, emerging market funds were crushed during the first quarter. Investors yanked more than $50 billion from emerging market stock and bond funds. After a strong run higher for U.S. equities, there simply aren't many eyes on emerging markets like Brazil.
But emerging markets are finally catching a bid. If U.S. stocks begin to slide as we get into the dog days of summer, you could have the perfect opportunity to play a potential emerging markets bounce…
Regards,