3 Stocks You Should Avoid Like the Plague
Usually, I write a morning note with the latest trends and trades that can help you navigate our unforgiving markets.
Not today.
I'm breaking from our usual agenda to bring you "Bad Idea Friday". Yes, it's exactly what it sounds like: I'm going to give you three boneheaded trading ideas. You might think of these stocks as potential comeback plays. But do yourself a favor –steer clear of these market casualties.
All three of the stocks I'm going to show you are down significantly this year. And each is dealing with problems that could send shares even lower.
Let's get to it…
First up is an electronics megastore I'm sure you set foot in before: Best Buy (NYSE:BBY).
I don't like Best Buy for a couple of important reasons. First, big-box retailers are struggling. But Best Buy in particular is in trouble because Amazon is eating its lunch. Customers use Best Buy as a showroom for gadgets they want, and then they just buy them online for a cheaper price. Best Buy tried to stop the bleeding with price match guarantees. But that appears to be only a temporary solution.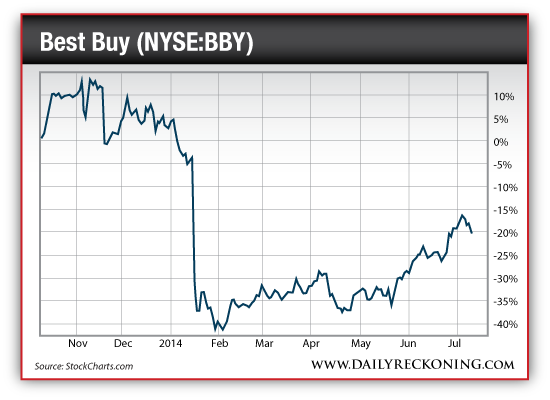 Best Buy shares are up 25% since the end of April. But I see little reason to trust this rally. The stock remains down significantly year-to-date. It still has plenty of resistance to clear from its January swoon—and earnings season is fast approaching. Stay away from this one…
Next up is Aeropostale (NYSE:ARO). Aeropostale is a mall-based retailer that caters to younger customers. And it just can't seem to do anything right lately.
In fact, some analysts are predicting the company might just shut its doors as early as next year. As Yahoo! Finance reports, "Aeropostale's teen line of branded clothes is fighting a losing battle with the likes of low cost brands such as H&M and Forever 21." Specialty retail is a fickle business. And it sometimes makes for a bad investment. Take a look: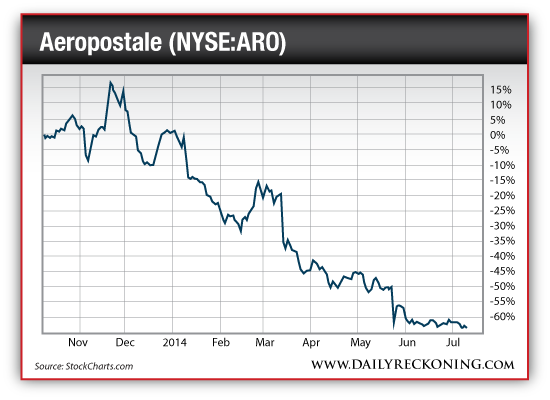 The stock is down more than 60% on the year. ARO is pushing toward new lows this week. Don't even think of buying this one…
Finally, we have Lumber Liquidators (NYSE:LL), which sells specialty flooring at its locations across the U.S. Lumber Liquidators made headlines yesterday when the company announced soft demand and fewer customers visiting its stores. The stock dropped more than 20% on the day…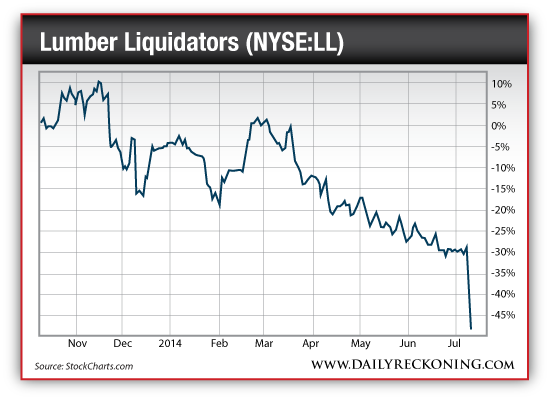 Lumber Liquidators has almost been chopped in half since the beginning of the year. Things could get even uglier when the company reports earnings later this month.
Regards
Greg Guenthner
for The Daily Reckoning
P.S. Stay away from these stocks this summer. It looks as if their plights could get worse before they improve. Sign up for the Rude Awakening for FREE today to see how you can trade these trends for huge gains…