The Market Crash No One's Talking About
The market's crashing…
No, I'm not talking about stocks (although S&P futures are down about 8 points as I type). While the stock market has captured everyone's attention lately — from the Fed chair to the doomsday top-callers — you'll find the real action is happening next door in the commodities markets.
Have you checked out the price of grains lately? Go ahead and pick one. I'll wait.
Whatever you're watching — wheat, corn, soybeans — is down double-digits over the past few months.
You might recall that I was bullish on corn earlier this year. Well, that uptrend corn was building back in the winter turned into a disaster in the spring (don't worry, we got off the corn bandwagon back in mid-May). Over the past three months, corn has dropped more than 20%.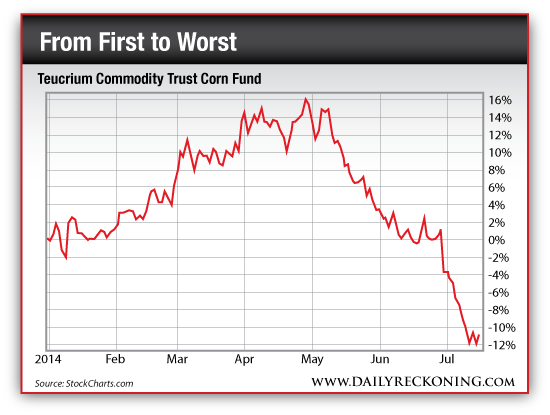 There are plenty of reasons why corn and other grains are tanking. The Department of Agriculture just projected that supplies will significantly exceed expectations this year. Yes, the summer weather has been quite favorable to U.S. crops…
"Crops in the United States, the world's top grain exporter, have flourished this summer thanks to nearly ideal weather, fueling expectations that bumper autumn harvests will expand crop inventories," Reuters reports. "Reduced demand for animal feed helped lift grain inventories, which have been replenished following a historic U.S. drought in 2012."
With billions of bushels expected later this year, corn and other grains aren't offering much on the long side. Avoid them.
On the other hand, not all commodities are feeling the pain. Just check out some precious (and not-so-precious) metals. Palladium continues to push to new highs. It's up more than 22% year-to-date. Then there's copper…
A couple of weeks ago, I highlighted a huge buy signal in Dr. Copper. Sure, copper had its share of trouble in the past. The metal has slowly trended lower since it peaked near $4.50 in 2011. But the action we saw earlier this month was telling. Copper finally cleared critical resistance, breaking the downtrend that had trapped the industrial metal for nearly three years.
Now's it's working on higher prices: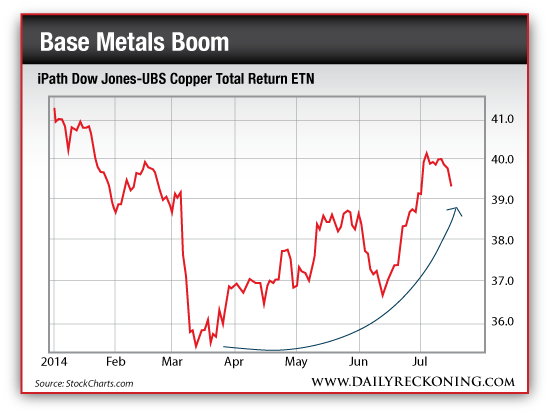 I like copper here as it consolidates its big move higher from last month. This could be the perfect addition to your portfolio as you wait out potential seasonal weakness in the stock market…
Regards,
Greg Guenthner
for The Daily Reckoning
P.S. In addition to the agriculture and commodities markets, I gave readers of this morning's Rude Awakening a quick rundown of 5 specific numbers to watch and one other major trend to keep an eye on throughout the trading day. These are just a couple of small benefits you'll receive by being a subscriber to my FREE Rude Awakening email edition. Bottom line, if you're not reading The Rude Awakening, you're not getting the full story. But not to worry… You can sign up for FREE, right here.