How a Priest Could Wrestle Profits from the WWE
What do a Greek Orthodox priest and the WWE (World Wrestling Entertainment) have to do with you making money?
Our small-cap trading specialist Jonas Elmerraji posed this question to us just the other day. It's all part of a strange story I just had to share with you. Pay close attention! This offbeat tale contains some powerful investing advice.
I'll let Jonas take it from here…
"On July 24, 2011, Gregory Lemelson was ordained a priest in the Greek Orthodox Church.
"He was granted the ecclesiastical name Emmanuel, and assigned to the Holy Metropolis of Switzerland," Jonas explains. "There, he's the presiding priest at the church of the Epiphany in Lugano, a beautiful town of 61,000 near the Italian border. But the Reverend Father Emmanuel Lemelson isn't your typical clergyman…
"That's because, Father Emmanuel also happens to be one of the most successful hedge fund managers in the world right now. In 2013, his small Amvona Fund (a name derived from the Greek word for "pulpit") produced an 89.25% gross return, beating the S&P 500's impressive gains by triple."
Not bad at all. In fact, Morningstar rated the fund in the 1% of U.S. Long/Short Equity hedge funds. And this year, Barron's and hedge fund consultant Preqin each named the firm one of the top performing global hedge funds once again.
So how can Amvona achieve these stellar returns?
"Lemelson is known for being an activist investor," Jonas says. "That means that he spots opportunities in public companies, and then tries to compel management to boost investor returns by convincing them to change the way they do business…
"Case in point: earlier this year he went to battle with WWE front man Vince McMahon. Lemelson thinks McMahon has duped investors in the wrestling entertainment company. And he's calling for big changes to shake up the organization."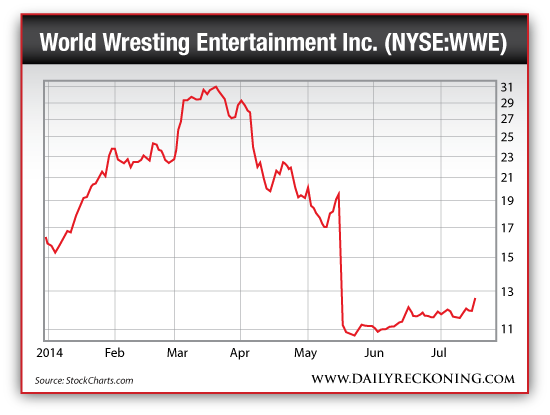 Coincidentally, WWE shares jumped more than 6% yesterday on takeover speculation. Not too shabby for a stock that's taken more than its fair share of lumps this year. It's entirely possible that an activist like Lemelson could turn this company around.
Regards,
Greg Guenthner
for The Daily Reckoning
P.S. The WWE is not Lemelson's only target… On April 22, Father Emmanuel published an open letter to the CEO of a small semiconductor equipment maker. In it, he disclosed that his fund had been quietly buying up shares of the firm, and laid out his case for significant upside in the stock. In fact, it could be his highest-conviction bet ever. And readers of this morning's Rude Awakening email edition had a unique opportunity to discover this company's ticker. If you'd like to get access to other great opportunities like this, be sure to sign up for The Rude Awakening email edition, for FREE, right here.