Why You Should Rethink Your Earnings Season Strategy
Brick by brick, Russia is rebuilding the stock market's wall of worry.
The Malaysian Airlines crash that originally spooked world markets Thursday isn't going away anytime soon. Russia is under even more international pressure as the new week begins—and additional nations are reportedly considering sanctions.
Oh yeah, then there's the whole reignited Israel-Palestine conflict. Just a couple of weeks ago, the world was relatively quiet. Now, in the middle of the slow summer market season, a few surprises have injected a little volatility into the mix.
After weeks of smooth sailing for the S&P 500, a shake-and-bake move has traders spooked. On Thursday, you couldn't sell fast enough. But just 24 hours later, someone flipped the "buy" switch. Almost all of Thursday's losses disappeared before the weekend officially began…
Of course, new developments out of the Ukraine or Gaza could swing the markets. But these reactions will probably be temporary.
So you have to ask yourself…
Before Russia and Israel began to steal headlines, what the heck was worrying investors?
Oh right… earnings.
One of the prevailing arguments for a market correction is that earnings will not be able to keep pace with the rise in stock prices. Stocks have jumped too far, too fast. And the soggy earnings reports we saw from the first quarter are just a preview of what's to come.
But that's not exactly the case. In fact, second quarter-earnings have gotten off to a red-hot start…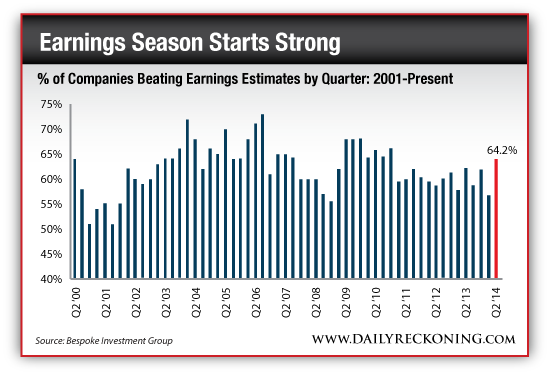 "Last earnings season, the earnings beat rate hit its lowest level of the current bull market with a reading below 60%," reports Bespoke Investment Group. "So far this season, 64.2% of companies have beaten estimates."
Bespoke published this number early Friday—so it's important to note that only 10% of companies had reported so far. The most updated earnings number I could find for this morning is from FactSet. It shows that 74 companies in the S&P 500 have posted earnings, with72% beating forecasts. That's impressive.
There are plenty of earnings on your plate this week, too. Netflix, Apple, Microsoft, Facebook, Amazon and McDonald's all announce numbers before Friday. If we continue to see strong results, the "weak earnings" argument in favor of a significant market pullback goes out the window…
Regards,
Greg Guenthner
for The Daily Reckoning
P.S. With U.S. stocks posting strong results, you need to shut out the noise on the news. Sign up for the FREE Rude Awakening email edition for your chance to discover the best places to put your money right now. Each issue comes complete with a quick rundown of the markets, 5 "numbers to watch" and at least 3 chances for you to discover specific places to grow your wealth in any kind of market. And it gets delivered straight to your inbox, every morning right around the opening bell, so you know exactly how to invest as the day progresses. Sign up for FREE, right here, and never miss another great opportunity.