Diverse Opportunities in the Boomer-Controlled Market
You aren't getting any younger…
It's no secret. You've heard time and again how the aging baby boomers are warping this country's demographics. Births are dropping, while the ranks of folks cashing Social Security checks grows by the day. Now, big business is set to take advantage of the trend.
Just how much older are we getting? Check out the statistics…
"Births peaked in the U.S. at 4.32 million in 2007 and declined for five years before leveling off recently. Some 3.96 million babies were born in the U.S. last year, according to preliminary data from the Centers for Diseases Control and Prevention," The Wall Street Journal reports. "The number was up slightly from 2012, but the country's fertility rate dropped to a record low of 62.9 births per 1,000 women of childbearing age. Meanwhile, over 3 million Americans are now turning 65 each year, according to the Pew Research Center."
Those 3 million Americans turning 65 every year have caught the eye of companies like Procter & Gamble and Kimberly-Clark. Look no further than the diaper market for proof. While sales of baby diapers and training pants have weakened, sales of incontinence products continue to grow. That's why P&G is jumping back in the adult diaper business after a ten-year absence.
Yes, the adult diaper market is surging. The statistics backing up this claim are staggering. Sales of incontinence products have tripled to $1.5 billion over the past 15 years. For mega-cap consumer staples firms like P&G, this means potential sales of more than $500 million in just a few years, one analyst told the WSJ.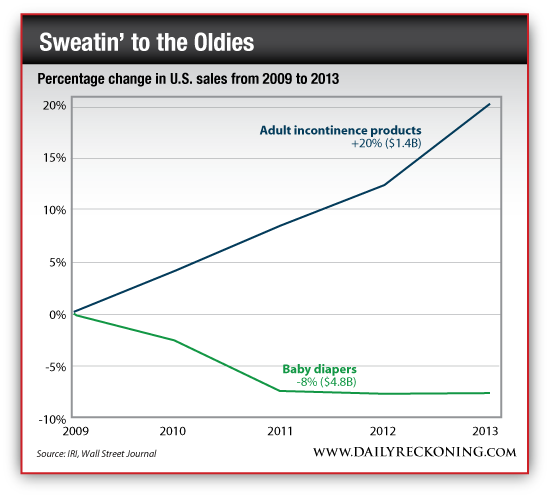 The geezer trade is now in full effect. Investment candidates in the aging-boomer niche are diverse. You have biotechs, generic drug makers, senior care facilities, consumer staples companies like Kimberly-Clark and P&G that are even altering their advertising strategies to target older people.
It's no coincidence that health care stocks and other groups related to this trend are spanking the averages. Health care is the third-best performing sector year-to-date. Back when biotech shares were melting down a few months ago, I told you healthcare stocks could be a safe "hideout" for your trading dollars. That hasn't changed.
The Health Care Select Sector SPDR ETF (NYSE:XLV) has gained more than 11% year-to-date. And as I told you earlier this month, the Affordable Care Act and an aging population both remain big themes in the long-term.
Regards,
Greg Guenthner
for The Daily Reckoning
P.S. Today, I revealed to my premium readers what could be the ultimate play on our aging population. And readers of the FREE Rude Awakening email edition had an exclusive opportunity to get in on it before almost anyone else. It's just one small benefit of being a subscriber to the Rude Awakening. Don't miss out on this or any of the other incredible opportunities that come with a FREE membership. Sign up for the Rude Awakening for FREE, right here, and see how you can trade this trend and others for huge gains…