Smart Investments in the Mobile Revolution
Are you "addicted to being distracted"?
Don't worry— there's an app for that.
A smartphone-obsessed millennial created an app called Moment to help you monitor your smartphone use. The app gives you what are called "nudge" updates on how much time you spend with your nose in your phone. The goal, of course, is to make you aware of the time you're wasting with your face glued to the tiny screen.
Of course, knowing how much time you're wasting on your phone probably won't get you to put it down anytime soon…
It's no secret that the entire world has a serious smartphone addiction. Have you tried talking face-to-face with someone lately? Chances are, they weren't paying attention. Instead, they were probably surfing the web, playing a game, taking pictures of their food, taking video of a nearby animal, or updating their Facebook status.
Ah yes, Facebook stock is climbing to new highs this morning. The social networking giant crushed lofty earnings expectations—and mobile phones are one of the big reasons it was able to do so. Facebook reports that a staggering 654 million users log onto their accounts every single day from their phones…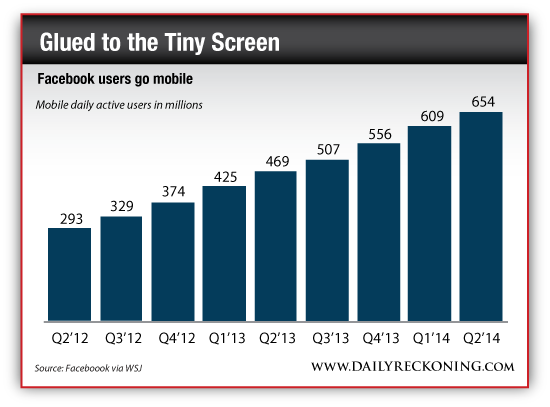 If you were skeptical of the power smartphones hold over us, these ridiculous numbers should convince you otherwise. Facebook's revenue jumped by 61% during the second quarter due to mobile advertising. That especially dramatic considering the company was making $0 on mobile ads just two years ago at the time of its initial public offering…
Now, I'm not saying you should sell your house and put all of your money in Facebook stock. Don't feel like you have to chase after shares as they surge higher today. There are plenty of ways to play the mobile revolution, from chips to apps and even optics and the phone makers themselves…
Regards,
Greg Guenthner
for The Daily Reckoning
P.S. For your chance to discover specific ways to play the mobile revolution, sign up for my FREE Rude Awakening email edition. Every issue is packed full of great investment tips, including 5 specific numbers to watch, important trends you should be following, and at least 3 chances to discover actionable stock picks that could make you a fortune in any kind of market. Don't miss another issue. Sign up for FREE, right here.