188 Stocks that Could Benefit from a Short Squeeze
Dull market boring you to death this summer?
Maybe it's not the market. Maybe it's you. There's actually plenty of stock market action that could help you line your pockets right now…
You just have to know where to look.
I've said it before and I'll say it again — boredom is not an excuse to bet against the market. That's the big mistake so many investors and traders are making this year. They see the S&P slowly churning near all-time highs and they dive headfirst into shorts.
Just as we saw in mid-June, a quiet S&P does not mean all stocks in the market are off on summer vacation. Short squeezes are starting to pop up all over the place once again. Merger and acquisition targets, Chinese ADRs and select tech stocks are the targets this time around.
While the S&P 500 stretched nearly one measly point higher Thursday to close at new all-time highs, the real action was once again under the surface. Real-estate listing sites Tulia Inc. (NYSE:TRLA) and Zillow Inc. (NASDAQ:Z) both spiked double-digits on a rumored merger. SodaStream Intl. (NASDAQ:SODA) — a stock that had been pulverized to new 52-week lows earlier this week — jumped nearly 10% on the day thanks to buyout speculation.
So what do all of these stocks have in common (other than the fact that they all posted incredible gains Thursday)?
They all have plenty of investors betting that prices are going to fall. Each of these companies has short interest of at least 20%. With so many investors expecting lower prices, any optimistic news can trigger a powerful short squeeze. That's how you get the huge pops we experienced yesterday — even when the market is essentially flat…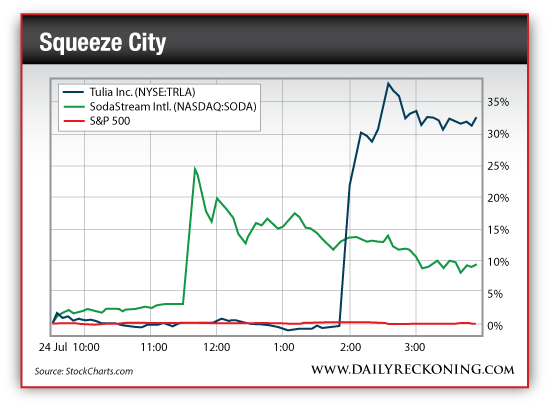 These aren't the only stocks that are currently susceptible to a short squeeze. I just ran a quick screen and came up with 188 liquid stocks trading on major exchanges that have short interest of at least 20%. Of these stocks, 12 finished the trading day up at least 5%. That has to make some of the short sellers incredibly nervous.
One last note: These short squeezes are great for traders — but there's no guarantee that the big, one-day moves will turn into a meaningful change in trend. Get in, get out, and book your gains. Right now, biotech looks like the best sector to search for potential squeeze candidates.
Regards,
Greg Guenthner
for The Daily Reckoning
P.S. If you're interested in discovering the best ways to play this trend right now, you'll want to sign up for the FREE Rude Awakening email edition. Inside each issue, readers are given a full rundown of my favorite trends in the market… and a chance to discover specific stock picks that show exactly how to play them. Don't miss another issue. Sign up for FREE, right here to get started.