Get Ready for Coal's Big Comeback
Over the past three years, few investments have performed worse than coal.
The Market Vectors Coal ETF (NYSE:KOL) has lost about 60% of its value since midway through 2011. Individual coal stocks have fared worse. Some have already filed for bankruptcy…
Investors hate coal stocks because they've brought them nothing but pain. Environmentalists hate coal because it pollutes. And politicians hate coal because they see an opportunity to jump on the bandwagon and gain some much-needed positive publicity.
Early last month, the Environmental Protection Agency announced that power plants must reduce their emissions of carbon dioxide by 30% by 2030. The war on coal is here, and sentiment among the coal miners has finally hit rock bottom…
"The first thing that stands out is the overwhelming anecdotal evidence of hatred towards the coal stocks," my friend J.C. Parets, founder of Eagle Bay Capital, wrote yesterday. "Who's pounding the table on coal?"
The answer, of course, is no one. Investors have absolutely crushed coal. They want to buy solar or fuel cell stocks. They want to invest in the future—not some sooty black rock.
That's fine. Heck, I like solar, too. But that doesn't mean I believe we're going to wake up tomorrow morning and stop burning cheap, plentiful coal. It's just not going to happen. I think coal is here to stay in one form or another for decades. The world needs cheap energy, and coal delivers.
In fact, coal is trying to tell you something right now. All you have to do is look at its chart…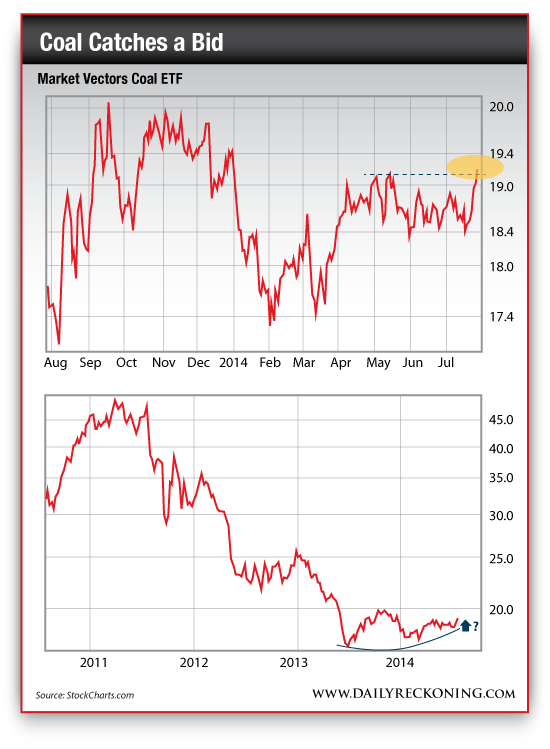 "I don't think this trend can last forever," I told you in early June when KOL was still fighting to gain momentum. "The Market Vectors Coal ETF (NYSE:KOL) is once again attempting a comeback move. The ETF has traded higher every single day this week. If it can sneak back toward $19, you could see a breakout that takes everyone by surprise."
This week, we're finally seeing that surprise breakout. KOL jumped over $19 Monday—and it hasn't looked back. If this breakout holds, coal could gain some serious momentum after slumping for years. Just look at that long-term chart. After a solid year of trying to find a bottom, KOL is finally catching a break.
Comeback moves like this one can be incredibly profitable.
Regards,
Greg Guenthner
for The Daily Reckoning
PS: By the time the average investor catches on, coal names could quickly double… Sign up for the Rude Awakening for FREE today to see how you can trade these trends for huge gains…