The Surging Market Sector You're Probably Ignoring
If the back-and-forth action in the markets has you banging your head against the wall these days, maybe you're concentrating on the wrong stocks…
While the market churns near its highs and investors continue to fret over the makings of a possible correction, Asian stocks listed on U.S. exchanges are catching fire. Japanese markets are at 6-month highs. And Nasdaq data show a basket of Asian ADRs advancing to new 52-week highs.
Today, I want you to concentrate on China. Specifically, those much-maligned Chinese stocks that trade (sometimes erratically) here in the U.S. I see signs that the market is building up for a new speculative frenzy for beaten-down Chinese names. If you pay attention and hop onboard at the right time, you have the chance to score more than one massive trade before the end of summer.
First, let's take a look at the breakout. After enduring a sideways trading range since the financial crisis, Chinese stocks listed in the U.S. are finally catching a bid. This group of stocks has been coiling for nearly six years—and they're nowhere near their highs posted back in 2007…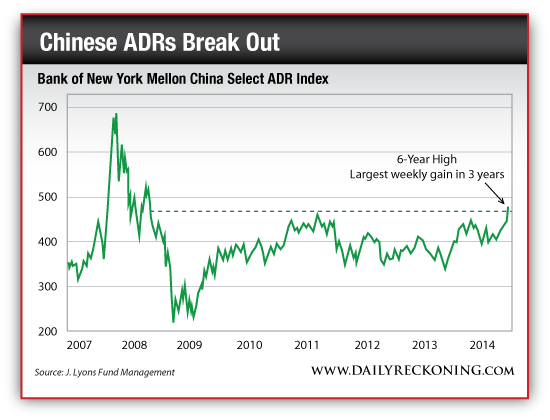 Some of the biggest, most recognizable Chinese stocks are leading the way higher. Baidu Inc. (NASDAQ:BIDU), usually referred to as "China's Google", surged after beating earnings estimates late last week—including a 59% year-over-year gain in revenue. The stock is up nearly 20% in the past four weeks alone. And it's not the only big mover.
Chinese ADRs are ramping across the board. I counted 18 liquid Chinese stocks up by at least 2% Tuesday afternoon. Of these, five were up more than 6% by the closing bell.
While these red-hot shares span a variety of sectors and industries, I think the best possible course of action is to narrow your search to Chinese technology and internet stocks. These are the names that could get the most attention.
Regards,
Greg Guenthner
for The Daily Reckoning
P.S.  If you'd like to learn more about specific profit opportunities, sign up for my FREE Rude Awakening email edition. Every issue contains at least 3 chances for you to discover real, actionable stock picks that could show you how to profit in any kind of market. Check it out for FREE, right here.