How to Trade the Return of Social Media Stocks
Growth is good.
This week, we're seeing growth in some unusual places.
Gross Domestic Product screamed higher during the second quarter after slumping during the unusually cold winter months. Of course, no one really saw that coming. GDP rose 4%, smashing analyst estimates as Americans bought cars and appliances at the fastest pace in almost five years, Bloomberg reports.
Oh, and we're starting to see some real growth in social media companies' bottom lines. And as you've probably already guessed, no one saw that coming, either.
Yelp Inc. (NYSE:YELP) reported its first profit ever as a public company Wednesday afternoon. The online review leader earned $2.7 million during the second quarter, compared to a loss of a little less than $1 million last year.
And Yelp isn't the only trendy social media name bolstering its bottom line. Earlier this week, Twitter Inc. (NYSE:TWTR) announced earnings of 2 cents per share, along with huge revenue and user growth. Just when analysts and investors turned their backs on the stock, it smashes expectations and jumps almost 30% after hours.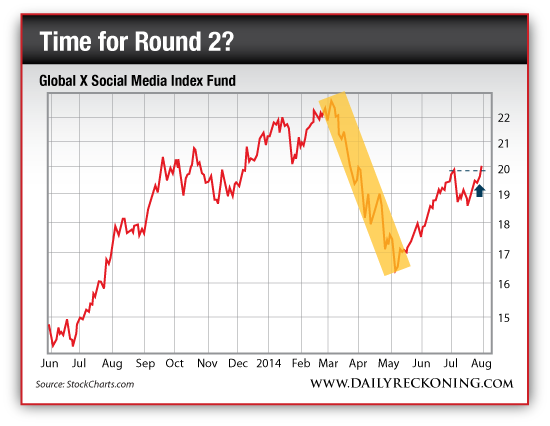 Facebook's clearly not the only social media name raking in the dough these days. And these profitable reports are helping dig the social sector out of its funk. After topping out in early March, the Social Media Index cratered for more than two months. Investors took a defensive position and sold out of these stocks.
But thanks to a sharp comeback in June — and a secondary breakout this week — social stocks are on the mend and heading higher. If these stocks can recapture some of the magic that vaulted shares to new heights back in February, you could have yet another chance to book huge gains in the sector while the rest of the market chops or moves lower.
While you shouldn't "chase" any big gaps higher like we saw with Twitter's earnings announcement, there are plenty of names in this space that could breakout as we get ready for the new trading month to begin.
Regards,
Greg Guenthner
for The Daily Reckoning
P.S. If you want to keep it simple, you can buy shares of the Global X Social Media Index ETF (NASDAQ:SOCL). This is an effective way to take advantage of a basket of social media names without taking on too much risk in the middle of earnings season. For more great tips like this — including 3 chances every day to get expert analysis and actionable stock picks — sign up for my FREE Rude Awakening email edition.