The Real Reason the Stock Market's Dropping… and How to Play It
Perhaps the stock market is dropping due to the Ebola virus outbreak.
Maybe it's the fighting in Gaza…
Or the potential for rising interest rates…
There are a million reasons for investors to sell stocks. And depending on which financial news report you read, any one of the worries I listed could be the main culprit.
Want more? Fine.
Junk bonds, stock valuations, small-cap weakness, inflation, deflation, tapering, Russian sanctions, Portuguese banks… and that's just what I can pull off the top of my head.
But in reality, the market's slump isn't pegged to a specific worry or geopolitical event. Stocks can't go up forever. And right now, it's clear that they need a break. It's that simple.
"The S&P 500 ended Friday's session 2.7% lower than it started on Monday, closing the worst week for stocks in two years," notes our own Jonas Elmerraji. "No, that's not a typo – the last time stocks corrected that hard was June 2012."
Jonas wasn't surprised by last week's drop. In fact, he sees more downside risk this month.
"The S&P 500 hasn't seen a real test of its long-term trendline support level since back in February, so I'd expect a test of that price level sooner rather than later," Jonas explains. "Context is crucial for understanding corrections in the market, so here's the context: the S&P 500 can drop to around 1,880 without threatening the primary uptrend in stocks."
If you take a step back and look at the market's uptrending channel, you can easily spot the levels Jonas is talking about…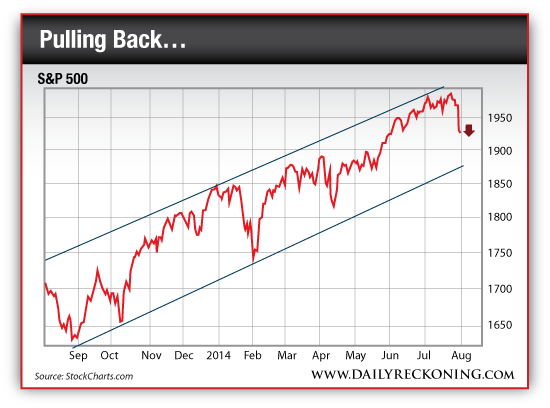 "Frankly, this is almost exactly how January's big correction in the S&P worked out," Jonas concludes. "That's why it's important not to fall into the sentiment trap when stocks move materially off their highs – from a technical standpoint nothing has changed here. So far, August seems to be following the mantra of 'new month, new market' that's been in play for a while now. I'd expect to see lower ground for stocks as the month progresses, but that's nothing to worry about at this point."
Regards,
Greg Guenthner
for The Daily Reckoning
P.S. While we're still officially in a "buy the dips" market, I wouldn't pounce on stocks just yet. Give the market time to fade and consolidate toward the bottom of its channel. If we get a bounce near support below 1,900, that will be your signal to try to play a bounce. Sign up for the Rude Awakening for FREE today to see how you can trade these trends for huge gains…