The Number You Need to Know to Play the Next Market Bounce
Investors might have treated themselves to a little panic buying yesterday afternoon.
After slowly sinking into negative territory Monday morning, stocks caught a bid and the major averages snuck higher well into the afternoon.
It looks like investors are taking the "buy-the-dips" mantra seriously. Just a couple of days of sharp downside action has prompted many traders to take a stab at buying stocks. The last thing anyone wants is to miss out on a good rally…
Of course, it's probably a little early to go bottom fishing. After all, the S&P was only about 3% off its highs as of yesterday morning. That's hardly a correction. Heck, it's not even really a pullback. Most people have completely forgotten what an actual correction looks like.
"Every time volatility spikes, the calls come out, 'the wolf is here!'" writes MKM Partners chief market technician Jonathan Krinsky. "While no one knows for sure whether the wolf is actually coming, there are signs that perhaps now, more than in a long time, he is close."
Just as a quick reminder: The S&P 500 hasn't dropped by 10% in nearly three years. And last I checked, a 10% drop really isn't the end of the world. There's nothing wrong with the market hitting the reset button—as long as you know a few spots where you can ride out the turbulence.
Yesterday, we talked about how you should give the market time to fade and consolidate toward the bottom of its channel. Your signal to try to play a bounce will be somewhere near 1,900—maybe even a little lower. In the meantime, it's important to watch individual sectors carefully. You have to know what's holding up—and what's breaking down.
You already know that larger stocks are outperforming small-caps. That's been the case even before the major averages started to slip…
But check out some of our favorite large-cap tech stocks. I've been high on these names for a while. Now, it's evident that many of these names are holding up much better than the market.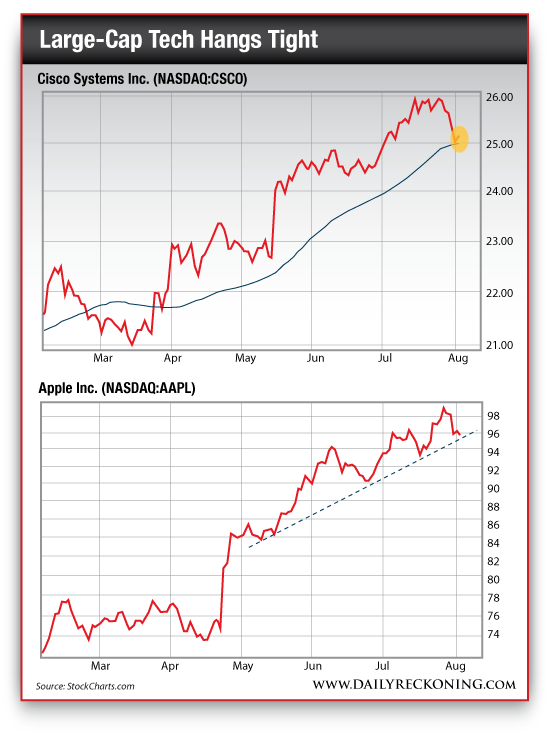 Cisco Systems Inc. (NASDAQ:CSCO) gave us a nice little bounce off its 50-day moving average Monday. Keep in mind that more than 66% of all stocks trading on major exchanges are currently below their respective 50-day moving averages. But not CSCO. It's hanging tough and setting up for a potential bounce.
Then there's a little stock called Apple Inc. (NASDAQ:AAPL). Apple is well above its 50-day moving average. It's climbing higher in a tight range while many other stocks are struggling to hang onto gains.
Greg Guenthner
for The Daily Reckoning
P.S. Both of these stocks look like great hideouts if you're concerned about market weakness. But if you're looking for an even better way to play it, sign up for my FREE Rude Awakening email edition, right here. Once inside, you'll get expert analysis sent straight to your inbox every morning right around the opening bell, including a rundown of the day's important market trends and 5 specific numbers to watch. This research isn't posted anywhere else online. It's only available through the Rude Awakening email edition. So don't wait. Sign up for FREE, right here to get started.