You Won't Believe Where All the US Jobs Are Now
As the stock market continues to drop this week, two sectors are beginning to stand out as strong, longer-term buys. These two groups will give you the best chance to avoid some of the more volatile downside action—and even book gains along the way while the S&P continues to slump…
We discussed the strength in large-cap tech stocks such as Apple Inc. and Cisco Systems Inc. yesterday. Today, I want to take a closer look at how health care names are becoming one of the few go-to risk-off trades this year.
Despite having dropped more than 2% in just one week, the Health Care Select Sector SPDR ETF (NYSE:XLV) remains one of the strongest sectors in a weak market. For comparison, look no further than energy and utilities. These two sectors are down 4% and 4.5%, respectively.
So why is health care holding up so well? And why is this group of stocks set to outperform the market for years to come?
Part of it is the "geezer trade". Baby boomers are receiving their AARP cards at an alarming rate. About 3 million Americans are turning 60 every year. And this aging demographic isn't just warping our demographics—it's also fundamentally changing how we do business.
"The U.S.'s most dominant industries look a lot different than they did less than 25 years ago," the Wall Street Journal explains. "From 1990 to 2013, the top industries by employment have changed from mostly manufacturing to mostly health-care and social-assistance jobs in the majority of states, according to a U.S. Bureau of Labor Statistics data analysis of its Quarterly Census of Employment and Wages."
All it takes is one look at this map to see how the boomers are shaping the new economy: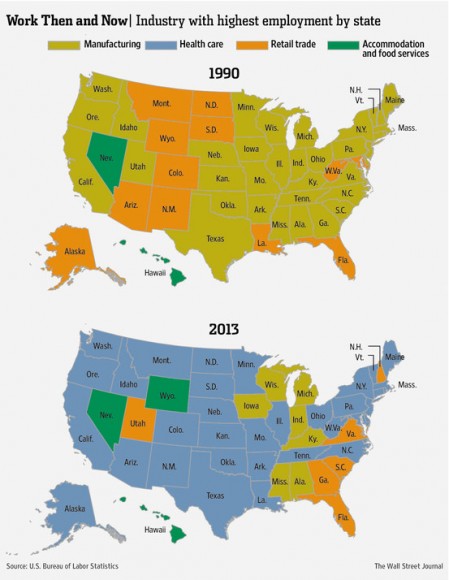 I guess all that complaining that the U.S. "doesn't make anything anymore" does have some merit. Oh, and according to the WSJ, health care jobs passed the manufacturing sector in 2004. That's right as the eldest boomers turned 60 years old…
Greg Guenthner
for The Daily Reckoning
P.S. As you begin to get defensive in the face of a possible market correction, look to large-cap health care stocks to help keep your portfolio afloat. Sign up for my FREE Rude Awakening email edition for a more in-depth analysis of this trend, including several opportunities for you to discover real, actionable investment advice.