3 Incredible Innovations that Could Make You a Fortune
1. Better Than Owning Your Own Stethoscope
As responsibility — and control of — personal health rapidly moves from the physician to the patient, we are entering an age of sophisticated monitoring devices that are easy to use because most of them will be offered as peripherals to your smartphone.
You use a thermometer to decide if your fever is emergency room-visit high. Many people use simple automatic blood pressure cuffs to track vascular health. Free apps on smartphones easily offer up your pulse rate. A sophisticated device that can tell if a mole is likely to become malignant is under development (and was detailed in the Tomorrow in Review e-letter). Many more such diagnostic tools are on the way, but you don't have to wait for sophisticated reports on the health of your heart. Now comes an FDA-approved EKG that you can carry around with you.
The device is called AliveCor, and it uses a small monitor that can rest on your finger or chest to take a limited EKG reading. The monitor transmits information via ultrasound to the microphone in your smartphone. Using sound waves saves phone battery life over other connectivity means like Bluetooth. Software that interprets the signal is a free download.
AliveCor gives an EKG reading comparable to lead 1 from a doctor's office machine, and it displays sophisticated immediate information about your heart and conditions such as atrial fibrillation or palpitations. It can be downloaded to a program that gives a record of your measurements and helps interpret them. Furthermore, it can be easily sent via email to your cardiologist.
Perhaps more important, this device takes a lot of mystery out of cardiology. The software teaches you about every facet of EKGs, including what to watch for. EKGs can look absolutely indecipherable, but in fact are not exactly rocket science to interpret once you know what to look for.
AliveCor offers an extraordinary tool for knowing about heart problems long before they develop into a life-threatening disease. Because hearts can be a lot like automobiles — they never act up when you bring them into the mechanic/physician — having a 24-hour, weekly or random-access grouping of readings can be invaluable for diagnosis.
Perhaps best of all, the price is reasonable. You can access all the benefits of AliveCor's EKG information for $199, which is probably less than your out-of-pocket after health insurance payments for a 24-hour heart monitor.
2. Google Thinks out of the Box With Cardboard
For a long time, the way we interact with computers has been limited to just a few modes. On the human-to-computer side, it's mostly been keyboards and mice, and, more recently, touch. Running in the other direction, we get nearly all of the feedback from our machines from staring at a screen.
Of course, we've greatly improved those screens. Low-resolution CRT monitors have given way to higher-resolution LCD flat screens, allowing more realistic virtual environments, something dedicated gamers appreciate and pay top dollar for.
Virtual reality headsets, however, are going to take screens to a whole new level of realism. We've had these headsets for years, and they're used in simulators, but they've been too expensive for mainstream use. That's changing. They're getting cheaper.
One big seller is going to be Oculus VR's Oculus Rift. Dozens of popular games support or will support the new headset soon. Facebook recently bought the company for $2 billion.
Games that were already immersive with high-resolution screens and high-end graphics cards become freakishly so when you strap on what is essentially a small screen over your head. The screen uses stereoscopic effects to create the illusion of three-dimensionality. When you turn your head left or right, up or down, the image automatically pans to where you are looking, rather than requiring you to press a key to accomplish the same effect.
Think of it as stereo headphones for your eyes. Fragging zombies becomes spooky real — but there will be many applications beyond gaming. Facebook's CEO hopes virtual reality will create more immersive sharing of personal experiences with friends on social networks. Better telecommuting is possible… and imagine watching a sporting event where it feels as if you are sitting in the stadium.
Google has taken note of the trend and has worked out a cheap hack. Most of the electronic components that make up a virtual reality headset — screen and motion sensors — are already built into a typical smartphone running Google's Android operating system. With a cardboard cutout, a couple of magnets, a small radio tag, lenses and a few rubber bands, Google engineers have figured out how to turn a smartphone into a VR headset for about $2.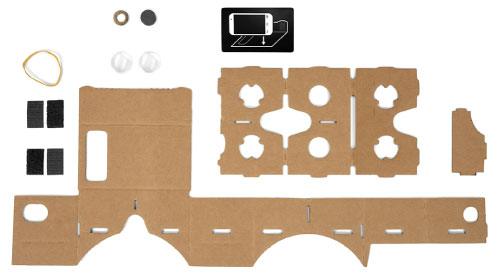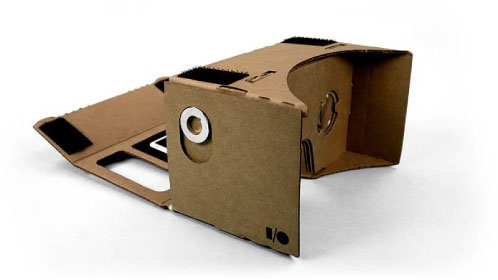 Google's makeshift Virtual Reality headset was handed out to attendees of its recent I/O developer conference on June 26.
It isn't intended to be a finished consumer product, of course. Google is using the VR headset (aptly named Cardboard) as a cheap easy way for developers to work on new applications using Google's virtual reality software development tool kit. The company hopes new applications will help drive adoption of the technology. Google has also released a Cardboard application on its app store to show off a few ways VR features can be included using its operating system.
3. Is the Future in Your Neighbor's Garage?
Back in 2007, Bill Gates wrote this in an article on the coming age of robotics: "Imagine being present at the birth of a new industry. It's an industry based on groundbreaking new technologies… It may well change the world." Gates predicted that by 2025, there would be a robot in every home, and that robots would become as ubiquitous as personal computers.
But the technological revolution that made computers commonplace wasn't smooth, and neither will be the robotics revolution. A generation of dreamers working in their garages and basements — people like Bill Gates and Steve Jobs — imagined a future and made it happen. The same will be true for robots.
Intel is taking notice. That company profited immensely when tinkerers took its semiconductors and built new products with them. Intel chips went from being niche to inside almost everything owned.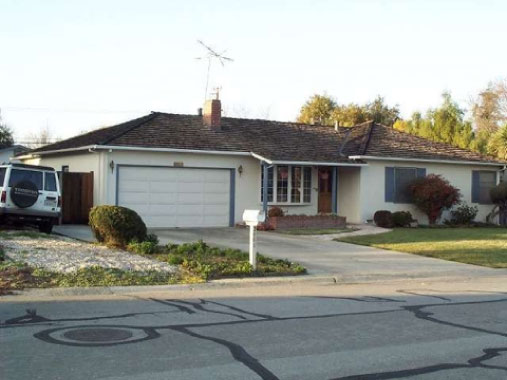 The garage on Crist Drive in Los Altos, California, where Steve Jobs and Steve Wozniak founded Apple Inc. and helped create a new industry.
Intel is introducing kits to help hobbyists make another revolution, this time with robots.
Intel's kit robot stands about two feet tall and contains a low-power computer on a chip. The robot's software is open source, allowing anyone to reuse or modify it. The hardware is also designed for easy modification. Intel plans to release the kit this fall, and it's expected to retail for $1,500. Here's a video of a version built at Intel, called "Jimmy."
How long will it be before every household with a teenager has its own C-3PO? Maybe a lot sooner than Bill Gates predicted.
Regards,
Ray Blanco and Stephen Petranek
for The Daily Reckoning
Ed. Note: What do a cancer-detecting smartphone app, a virtual reality headset and Intel's robotics software have in common? They all rely on one tiny little piece of technology. Readers of today's issue of Tomorrow in Review got a chance to discover it for themselves… and how it could make them 8 TIMES RICHER. If you're not getting the FREE Tomorrow in Review e-letter, you're missing out on a first-hand look at the world's most exciting technologies – and serious opportunities to profit from them. Don't miss another issue. Sign up for FREE, right here.