The "Hidden" Export Sector Worth $138 Billion
Every day, over $380 million dollars' worth of lucrative exports leave American soil.
Add it all up and over the next year the U.S. could be looking at $138 billion dollars in exports — all from this one "hidden" export sector.
"The reason this export trail is 'hidden' is twofold," explains our own resource guru Matt Insley. "Ten years ago, this looked to be a dying breed of American export at about one-fourth the size of today's total. Second, most folks overlook this lucrative sector because they think it's illegal. But let me be clear, this export trade is 100% legal. And today, it looks to be gaining even more steam…"
Matt's been all over this trend lately. And today, I convinced him to share with us the perfect way to play it.
So what's this export that has become so valuable?
It's American petroleum product exports. That's stuff like gasoline, diesel, jet fuel, kerosene, liquefied petroleum gas, heating oil, lubricants, and more. Some investors think it's illegal to export this stuff—it's not! All the talk you've been hearing on the news these days is about lifting the ban on exporting raw crude. Once it's refined, it's good to go…
Over the past decade, more and more of this valuable stuff has found its way to foreign shores. Take a look…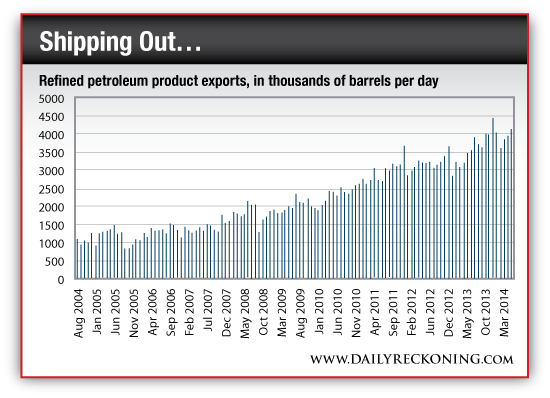 "For companies in the right place it's a flood of profits – with no end in sight," Matt continues. "If you've been plugged in to the energy sector for the past few years you'll know that refiners have been turning America's oil and gas comeback into cold hard cash."
There's a lot of reason to like this sector going forward, especially between now and the end of 2014.
First off, the second half of the year is when refiners ramp up their exports. From the southern hemisphere's driving season to heating fuel exports to Europe, refiners cash-in during the second half.
The other reason to like refiners is a longer-term trend.
"You see, the key to refiner's profit margins is cheap abundant U.S. crude and natural gas, while much of the rest of the world has to pay much higher prices," Matt explains. "With the majority of oil and natural gas growth coming from the U.S. (not abroad), American refiners will continue to have an edge."
Regards,
Greg Guenthner
for The Daily Reckoning
P.S. There are a few interesting ways to play the "hidden" export story. Sign up for the Rude Awakening for FREE today to see how you can trade these trends for huge gains...