Your Chance to Spit in the Market Correction's Face
After opening higher Thursday morning, stocks leaked lower all day. The S&P 500 continues to slip from its July highs. As of this morning, the big index is trading at levels not seen since late May.
I know you're probably sick of all the market correction talk that's popping up everywhere this month…
How far will the market fall?
When will stocks catch a bid?
Is this the beginning of a huge crash?
Forget all of it. Let's leave the correction speculation aside today and focus on some stocks that are actually posting gains…
I'm talking about gold miners.
The miners have been quite the volatile snap-back play this year. After sprinting ahead of the pack during the first quarter, gold mining stocks almost gave it all back before once again jumping out in front of the market back in June. This week, the miners care consolidating near their 2014 highs as gold futures sneak back above $1,300…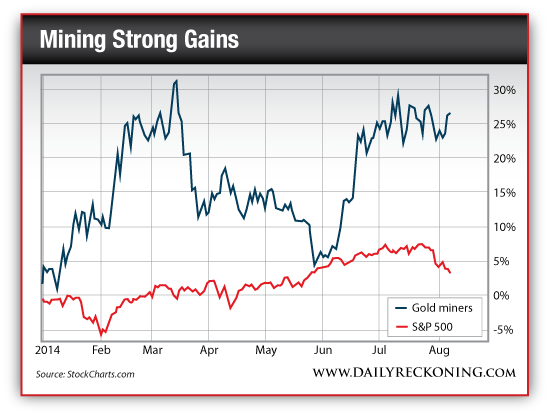 Remember, gold miners have been on the market's "most hated" list for nearly two years. And earlier this year, they attempted to shed their oversold levels and enter a new bull market. The move has been incredibly volatile so far. But if miners can break to new highs within the next few weeks, I think we could finally see the move stick.
You've also probably noticed that precious metals have put in some strong performances recently. Palladium (one of my favorites) looks like it headed back to its highs after consolidating. Silver is trying its best to hang on to $20, while gold is back above $1,300 this month. While I don't see any strong opportunities in gold (the metal), gold mining stocks are setting up for another potential run.
Regards,
Greg Guenthner
for The Daily Reckoning
P.S. Pay close attention to these stocks and you'll have a shot to hop on a winning sector — even if the market continues to sink this month. Sign up for my FREE Rude Awakening email edition for your chance to discover real, actionable stock picks that could turn this trend into huge gains for your portfolio.