The Most Bullish Sector You Can Invest in Right Now
Since the stock market first showed signs of weakness back in February, utilities have been one of the few go-to trades of the year.
As our in-house trader Jonas Elmerraji calls it, the flight to yield has directed big money into stocks that pay dividends. All the income investments were screaming higher earlier this year — like junk bonds, emerging market debt, highly leveraged utilities, and REITs.
And back in the spring, we noted that hedge funds had rotated out of growth and into value, with consumer goods, utilities, and energy stocks experiencing sizable inflows. When utilities in particular are seeing a big breakout, we noted, it's a signal that the market's retreating into its shell and going on the defensive. And sometimes the best offense is a good defense…
But utilities quickly went from a hot trade to a hot mess back in June. The "safety trade" overheated, and utility shares started to quickly unravel. Over the course of only a month, this group of stocks dropped nearly 10%.
Today, these stocks sit at a critical juncture. Utilities peaked in June as the S&P 500 continued to hit new highs. And these same utility stocks corrected by 10%, while the S&P dipped about 4% from July's peak to last week's lows…
So can utilities bounce back?
Yep. In fact, signs of a snap-back rally are already here. Just check out the chart…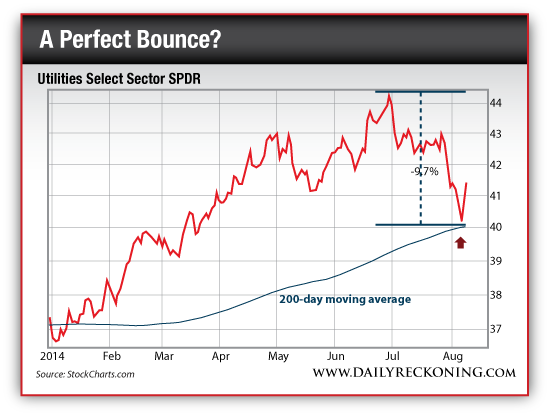 After a month of brutal punishment, the utilities are once again starting to show signs of life. Their quick race to the bottom was halted right at the long-term moving average. On Thursday, these stocks finally started sneaking higher. And Friday brought with it gains of nearly 2%. After all these stocks have been through this year, a bounce is looking more and more likely.
Running the utilities trend through some pattern-recognition programs yields some enticing results. According to the results, the average 6-month return on the current price trend is close to 9%, with the sector rising almost 94% of the time. While that's no guarantee that this group of stocks will perfectly follow this plan, it is an extremely bullish indicator.
Regards,
Greg Guenthner
for The Daily Reckoning
P.S. This week is your best opportunity to take a shot at a strong utility snap-back move. Buy these names here for a solid, low-risk trade. And for an even closer look at this market – including regular chances to discover actionable stock picks in this and several other market sectors – sign up for my FREE Rude Awakening email edition, right here.