How to Tap a $19 Trillion Market
Yesterday, I talked about the Internet's third growth phase. Something we're in right now.
The bottom line, I said, was this: eventually every device that can benefit from an Internet connection will become an Internet-connected device.
In terms of market size and economic impact, this new Internet device segment will be bigger than PCs and smartphones. In fact, once this tech trend runs its course, it will dwarf both of these markets combined… and there are huge fortunes yet to be made in enabling it.
How big will it become? According to Cisco's CEO, John Chambers, who was there at the Internet's first growth phase, when his company sold for a few cents a share: Internet of Things will become a $19 trillion market, with 50 billion connected devices by 2020.
That makes the current Internet, with its 6 billion connected devices, puny by comparison. And Swiss multinational communications technology and services provider Ericsson also estimates some 50 billion devices in that time as well.
But honestly, no one really knows how big this market will be. Only a tiny fraction of the things we buy are "smart," but imaginative creators are going to find applications for the Internet of Things no one has dreamed of yet.
All the basic pieces we need to do this are already in existence. Just recently, for example, a client that uses my IT consulting services needed a hidden remote camera to monitor a private outdoor space. It needed to be off the grid, and it needed to have a long-range wireless connection. With some help from eBay and a home improvement store, some inexpensive Chinese components — and an afternoon of tinkering and deciphering Chinese documentation — a high-performance custom solution came into being. I was impressed at how easy it is to do this kind of work these days. There's nothing groundbreaking about that, of course, but it serves to illustrate how a new generation of creative tinkerers are going to invent the future of the Internet of Things in their own garages.
Devices will be connected because connected devices will be better. Just about every computer today is connected to the Internet for the same reason: because a computer without an Internet connection isn't much better than a paperweight compared with one that is. This was Microsoft's big mistake when it missed the boat on the Internet boom in the 1990s, ceding leadership in Internet search and browser development to others.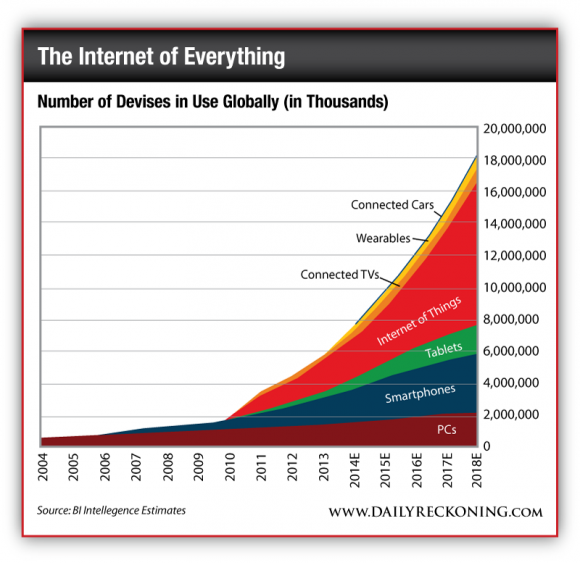 I'll say it again. The bottom line is this: Eventually, every device that can benefit from an Internet connection will become an Internet-connected device. It's that simple — and the number of newly connected devices will be simply staggering. The investment opportunity is correspondingly enormous.
Ad lucrum per scientia (toward wealth through science),
Ray Blanco
for The Daily Reckoning
P.S. I have a "pure play" recommendation in this space that knows exactly where the market is going. It's one of the most innovative leaders in the future "Internet of Things" market and has wisely positioned itself to make massive gains in the coming years. I can't tell you what it is here, but in today's issue of the FREE Tomorrow in Review e-letter, I gave readers a unique opportunity to learn more about it for themselves. If you're not a Tomorrow in Review reader, I urge you to sign up for FREE, right here. It's maybe the finest free resource I can think of that details the most exciting and innovative technologies about to come to market. And in every issue, you have a chance to learn how you can personally profit from them. And its' FREE! Don't miss another issue. Sign up for Tomorrow in Review, right here.