Obama Could Show You How to Make Huge Gains in 2014
You've survived the crash-calls and at least one family vacation this summer.
But have you made any money in the stock market lately?
If not, pay close attention. A powerful rally could give you the perfect opportunity to book some gains — if you know when to look for it…
Compared to last year, stocks haven't exactly wowed investors in 2014. After a couple of false starts, the S&P 500 is up a little less than 5% this year. By mid-August 2013, the S&P had already clocked gains of more than 18%.
But that could soon change over the next few months. If you look at some market cycle data, you'll see that a big end-of-year rally could materialize this fall.
But first, we need to figure out how the stock market typically winds its way through the year. So what the heck does an "average" year for stocks look like?
"The average year gains about 9% and tends to start strong, chop around during the summer, and bottom in late October before a strong year-end rally," explains market technician Ryan Detrick.
Ryan has compiled all sorts of market cycle data. (You can check out his blog, right here.) This time, he's taking a slightly different approach when it comes to looking at the presidential cycle. Typically, analysts will look at the 4-year presidential cycle for guidance. This being the second year of the presidential cycle means we should expect a weak market that spends most of the year in the red, then posting a sharp rally at the end of the year.
But this time around, we're dealing with a lame duck president about to enter his last couple of years in office.
So how does this affect the cycle?
As it turns out, it could lead to some very strong gains if stocks begin to catch up to the average sixth year of a two-term presidential cycle…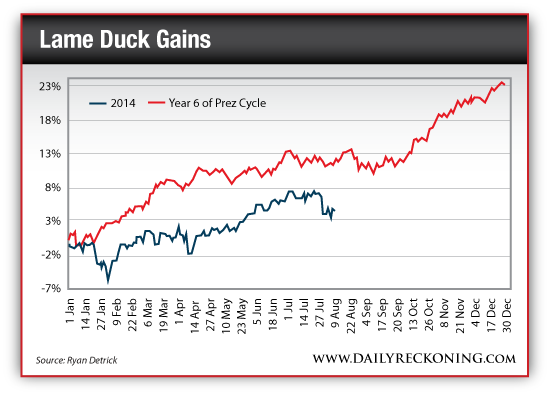 You can clearly see from the chart that year six is an absolute monster heading into the fourth quarter.
"Time and time again last year I'd overlay what happened in 1954 and 1995, and said 2013 could see a huge second half rally as they were all nearly identical," Detrick explains. "It is tough to remember, but this time a year ago many were chanting for an '87-like crash, not a huge end of year rally. History might not repeat, but it does rhyme. To me, the odds favor we finish higher than where we are right now and there's a good chance for a strong year-end rally."
Regards,
Greg Guenthner
for The Daily Reckoning
P.S. Even if the market lags behind the average gains, we'll still see a very strong year for stocks when all is said and done. And if Ryan is correct, the biggest gains could be right around the corner. Don't sit on the sidelines while everyone else is making money hand over fist. Sign up for my FREE Rude Awakening email, right here, to learn how you can play this potential coming rally for huge gains.