2 Great Stocks to Consider as Gold Stages a Comeback
Gold is showing signs of new life.
Of course, everyone wants to know why. Is it the conflict in Israel? What about that Putin guy? One news outlet was even bold enough to blame gold's recent rise on disappointing retail sales. Has this correlation ever worked before? I doubt it.
Maybe—just maybe—we have some buying pressure pushing prices higher.
"If you read the investment news chatter, a lot of folks are attributing gold's latest jump to a 'fear' trade. The markets are falling so investors ditch their shares and head to the safety of precious metals, they say," explains our resource guru Matt Insley. "But from my perch there's been a lot of pressure building for gold prices over the past nine months – something that you can see clearly in the price history. It appears that we're finally at a point where gold prices and miners could make a breakout move."
It has been an interesting year for the yellow metal. After a red-hot start to the year, gold trended lower for nearly three months. Now, it looks like it's trying to hammer out a higher low near $1,300.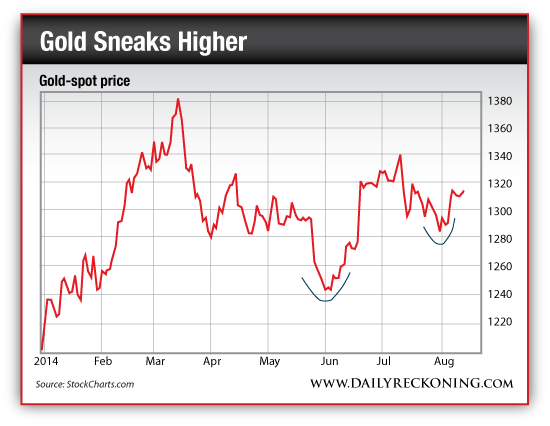 Now it's time for the million-dollar question…
How can you play gold right now?
To get the most bang for your buck, I recommend trading gold miners. Why? Because the market has decimated this sector. Gold miners have been dropping since late 2011. And now that they're beginning to bottom out, you have the opportunity to catch some potentially powerful snap-back moves…
I told you last week that the miners have been quite the volatile snap-back play this year. After sprinting ahead of the pack during the first quarter, gold mining stocks almost gave it all back before once again jumping out in front of the market back in June. Today, this group of stocks is on the edge of a breakout.
To help you get started on the road to mining profits, Matt has two gold miner picks for you to consider: IAMGOLD Corp (NYSE:IAG) and NovaGold (NYSE:NG).
"IAMGOLD is a producing miner – so there are ounces coming out of the ground," Matt explains. "At $1,200 gold, IAG is a marginal producer (meaning IAG isn't very profitable under $1,200 gold.) But if gold heads higher, to say $1,400, then this marginal producer will start spinning cash. That's great news for shareholders…
"NovaGold, on the other hand, does NOT produce a single ounce of gold, however. Instead it's a development project with what is widely known as one of the world's richest undeveloped gold deposits – holding some 39 million ounces. NovaGold isn't going at this project alone, though. Barrick Gold, the world's largest gold miner, owns a 50% interest in this project. That's what makes this play such a wild card. Although this mining project has been put on the backburner by Barrick, any tick higher in gold prices could spur an announcement to speed-up development. If that happens the stock could rise 50-100% in a day."
Regards,
Greg Guenthner
for The Daily Reckoning
Ed. Note: If this fresh momentum holds, these two miners could really get going. But these aren't the only ways to profit from the potential rise in gold. And in today's issue of my Rude Awakening e-letter, I gave readers a chance go find out my absolute favorite miner breakout right now. The stock I'm talking about just showed a picture-perfect bottoming pattern and, as I told my readers, "could very well become one of the biggest surprises of the second half of the year." Don't miss your chance to discover great investment opportunities like this. Sign up for The Rude Awakening, for FREE, right here.