Sell Your Sandwich Stocks
If there's one group of stocks you need to avoid right now, it's casual dining.
Restaurants stocks are cratering under the weight of some horrific earnings announcements. These mini-crashes are rippling across this once-trendy sector, crushing the trends of some high-flying industry mainstays and newer IPOs.
Our first victim is Red Robin Gourmet Burgers (NASDAQ:RRGB). At some point, you probably suffered through a child's birthday party at one of these family-friendly burger joints. But there's no party at Red Robin HQ today. The stock fell nearly 20% yesterday…
"Red Robin Gourmet Burgers was having one of the worst trading days in the stock's history Thursday, slumping to a 52-week low after a terrible quarterly report and further putting its five-year market winning streak in doubt," reports Yahoo! Finance.
Red Robin isn't one of those stocks forced to endure too many struggles lately. Yahoo! points out that Red Robin shares haven't had a negative year since 2008. In fact, the stock jumped 108% last year. Now, the stock finds itself in a bear market overnight. Shares are down 30% on the year.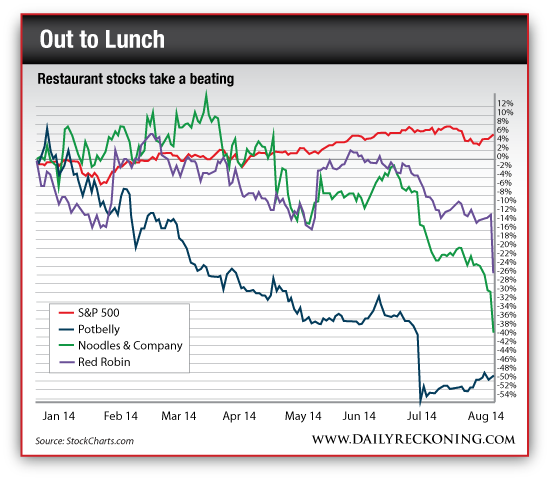 Red Robin isn't the only restaurant stock falling face-first down the stairs. A couple of newer "upscale" fast-food joints are dealing with mini-crashes of their own…
Check out Noodles & Company (NASDAQ:NDLS). Noodles just went public about a year ago, skyrocketing nearly 150% during its first two weeks of trading. But it's been all downhill from there.
Yesterday, NDLS dropped more than 16% after missing second quarter earnings estimates and guiding lower for the year. As of this morning, this stock has almost round-tripped back to its IPO price. And it's not the only victim…
Investors who tossed their hard-earned money at Potbelly Corp. (NASDAQ:PBPB) as it doubled off its IPO price back in late September are also sitting on huge losses. The sandwich shop was crushed by—you guessed it—disappointing earnings back in July. It has yet to recover.
Notice a trend here?
Aside from just a handful of the top restaurant/upscale fast food chains (Chipotle being best-of-breed with year-to-date gains of 27%), these stocks will give your portfolio food poisoning. Avoid them at all costs.
Regards,
Greg Guenthner
for The Daily Reckoning
PS: Aside from just a handful of the top restaurant/upscale fast food chains (Chipotle being best-of-breed with year-to-date gains of 27%), these stocks will give your portfolio food poisoning. Avoid them at all costs. Sign up for the Rude Awakening for FREE today to see how you can trade these trends for huge gains…