The Only Thing that Matters as the S&P Nears All-Time Highs
Stocks didn't stay down for long…
After spending just 12 days below its 50-day moving average, the S&P 500 is making a mad dash toward all-time highs. The "V-bottom" that has characterized every move off the lows this year has returned to bust up the bears' party. Now, the S&P is staring at a milestone move above 2,000 for the first time ever.
"Understandably, lots of investors are asking why stocks moved higher last week. Luckily, the major media outlets have answers," reports my trading buddy Jonas Elmerraji. "'U.S. and German data drove confidence on economic growth and helped extend a stock rally,' claimed Reuters in a story. USA Today thinks so too. 'Boosting stocks Thursday, for example, were better-than-expected readings on manufacturing in the Philadelphia region, sales of existing homes and first-time jobless claims,' the paper offered…
"But according CNBC, the driver was the Fed. And the Financial Times agrees. Pittsburgh's Tribune-Review says it's earnings that 'pumped up the stock market'."
But Jonas isn't buying the hyped-up headlines…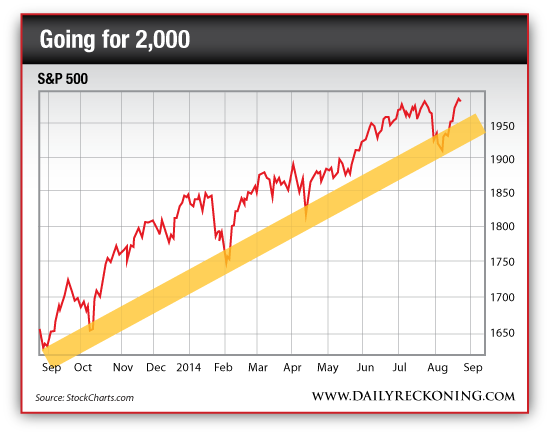 "Yeah, sure, all of those things probably factored into the market's price action for the week," he explains. "But so does your neighbor selling off 100 shares of XYZ Corp. to pay for his upcoming vacation. So do rumors and gut feelings. And the fact of the matter is that it's impossible to measure the actual impact that any of those factors have on stocks."
He's got a point…
If you listened to the headlines, you would have found yourself on the wrong side of the market for the better part of the past two years. While financial journalists and pundits fretted over a sharp correction, stocks defied the predictions and continued to march higher.
Today, the S&P looks like it will take an honest shot at 2,000—a level many thought to be unreachable as the economy unraveled just six short years ago.
Thankfully, the market has telegraphed clear buy signals for the duration of its run higher over the past couple of years. Very obvious support levels have offered alert traders the chance to ride each wave higher…
"Ultimately, price is how we make money as traders," Jonas concludes. "It's the only thing that matters. I don't care what earnings looked like, or how housing numbers changed, as long as I can sell the stock I just bought for more than I paid."
Regards,
Greg Guenthner
for The Daily Reckoning
P.S. You don't want to miss a single potentially profitable trade as stocks streak toward new highs. Sign up for the Rude Awakening for FREE today to see how you can trade these trends for huge gains…