A Secret "Buy" Signal in US Housing
As if enduring one of the most boring trading weeks of the year wasn't enough, lumpy housing data just had to sneak up on us Monday…
New home sales dipped 2.4% to a seasonally adjusted annual rate of 412,000 units, the commerce department reported yesterday. In case you're keeping track, that's the lowest level since March.
So that's it for the housing comeback, right? After this summer's big breakdown, homebuilder stocks are probably cooked.
Or are they?
You probably remember that I've harbored bullish feelings regarding homebuilders since last year. But after breaking through critical support back in July, this sector looked ready to roll over. I even told you to stay away from these stocks as they hit new 2014 lows. After all, I said there was plenty of room for them to drop much lower…
But now I'm starting to see some telling activity in one of the weakest groups of stocks this year. And one leading indicator is now hinting that last month's nasty homebuilder breakdown might actually morph into the biggest fake-out of the year.
All you have to do is look to lumber…
Lumber prices are breaking out in a big way. After cratering in June, lumber prices have gone on a massive (and volatile) tear. They're back from their lows and looking to move even more, potentially taking out the January highs.
Of course, lumber (and lots of it) is the main ingredient when it comes to building a house.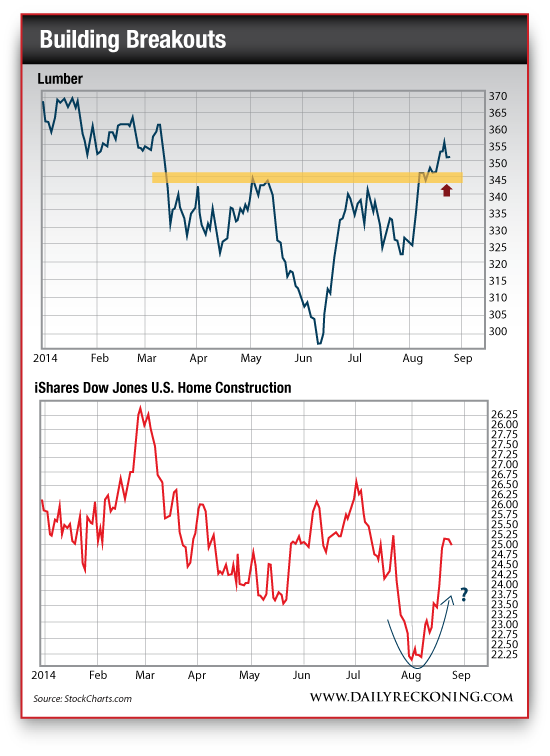 The key here is that lumber and homebuilder stocks usually trade together…
"Lumber looks poised to resume its uptrend," writes John Murphy on his Stockcharts.com blog. "An upside breakout in lumber could be a sign that homebuilders are ready to start playing catch up to the rest of the market."
The action we're seeing in lumber right now makes me think that the big breakdown in the homebuilders was nothing more than a massive fake-out move. If homebuilders can maintain their strength and take out their late June highs over the course of the next several weeks, you could have the opportunity to hop on a powerful new bull trend…
Greg Guenthner
for The Daily Reckoning
P.S. Keep your eye on this sector, as it could be a great way to turn a nice profit before year-end. And if you'd like to learn specific ways to play the market – including a chance at real, actionable investment advice – you can sign up for The Rude Awakening e-letter, for FREE, right here.