1990s Flashback: A Blueprint for the Current S&P Rally
While your favorite Wall Street tycoon is relaxing poolside in the Hamptons during the final week of summer, the S&P 500 has finally broken through. Well, barely…
The illusive close above 2,000 finally materialized. After two intraday breaks above the round number, the S&P finds itself right at 2,000 and up more than 8% year-to-date.
It's been a long time since the S&P hit a round number as gaudy as the big 2K — 16 years, to be exact. Back in the dotcom days of 1998, the S&P easily tore through 1,000 as traders furiously bid up every stock they could get their hands on.
Or maybe that's just the nostalgia talking…
Like many folks, you're probably remembering the '90s all wrong. Your view of an "easy market" has gotten the best of your memories. If you actually go back and look at the charts, you'll see that S&P wasn't tossing off easy gains to traders every single month. In fact, it got downright choppy.
"The 1990s are wrongly remembered as a period in the market where volatility was uniformly low and double digit annual gains came in easy succession," explains UBS Securities president Urban Carmel. "The crossing of the 1000 milestone is a case in point."
It actually took quite a bit of work for the S&P to make the leap above 1,000. Carmel notes that the first time the S&P came within 2% of 1,000 in October 1997, the index ended up plummeting more than 10% after struggling to close higher for more than three weeks. Then came more failures within spitting distance of 1,000. It took three months (and a couple of sharp pullbacks) for the market to finally get over the hump…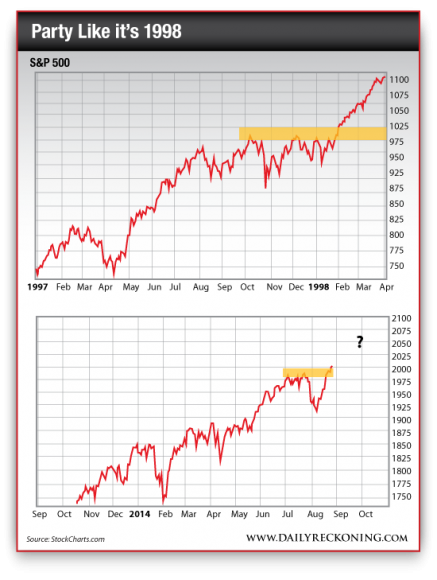 "Today, everyone remembers that [the S&P] rose more than 20% every year for 5 years in a row," Carmel continues. "What is left forgotten are the long periods where SPX chopped, fell and consolidated before moving higher. These were a hallmark of the 1990s rally, important periods where investors were shaken out, setting up the next move higher. The low volatility and easy gains of the period are a myth."
Once 1,000 fell, it ignited a furious rally leading to double-digit gains in just two months. Right now, the market could be setting up for a similar run. No, the circumstances aren't identical. But you should prepare for the possibility of a big pop in stocks headed into the fall.
Regards,
Greg Guenthner
for The Daily Reckoning
P.S. Most people (including me) were bracing for more downside action as the market began to slip just a few short weeks ago. But if stocks get going here, it could be the beginning of something big. I'll be tracking all of these moves and trends in my Rude Awakening e-letter, as they happen. So you'll never miss a single opportunity to profit. Sign up for the Rude Awakening for FREE today to see how you can trade these trends for huge gains…