The End of the "Gun Control" Bull Market
Just call it "peak gun"…
Yes, the gun bubble is finally popping. After years of backorders, heated debates, and fears over strict new laws, the assault rifle binge is beginning to sputter…
"Assault-rifle sales stopped in their tracks," Jim Hornsby, owner of Mainstreet Guns & Range in Atlanta tells Bloomberg. Hornsby estimated sales of assault rifles are off by a staggering 70% from last year.
"It's hard to give an AR away," he says.
Part of the reason for the sharp drop in gun sales is the subsiding fear of new gun control legislation. Despite several high-profile mass shootings taking place over the past few years, lawmakers have not passed any laws that could potentially devastate the American gun industry.
According to Bloomberg, criminal background checks for gun purchases averaged 1.75 million a month in 2014 through July. That's down nearly 4% from last year—and a good indication that gun sales will continue to thaw.
As a result, gun makers are sitting on huge stockpiles of rifles that were at one point nearly impossible to come by. That hasn't exactly aided share prices of gun stocks this year, either…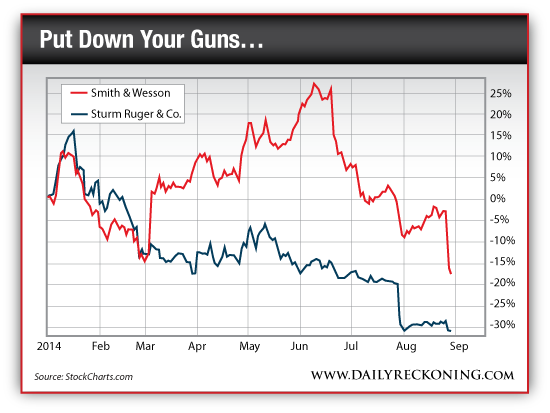 Smith & Wesson Holding Corp. (NASDAQ:SWHC) shares are down more than 15% just this week after the company cut its sales estimates. That lands the stock at new 2014 lows. Its main publically traded competitor, Sturm Ruger & Co. (NYSE:RGR), is also feeling the heat. Its shares are down about 4% on the week, bringing its losses to a staggering 31% year-to-date.
As you've probably already guessed, the huge gun boom we've experienced over the past couple of years has run its course. Those who have wanted to purchase assault rifles and other firearms have already done so. With demand receding and supplies piling up, I suspect gun makers (and their respective shares) will have a lot of trouble impressing investors over the next several quarters.
Greg Guenthner
for The Daily Reckoning
P.S. Guns aren't the only investments out there in the self-defense industry. Stay away from these stocks. There are plenty of other opportunities in this market without trying to catch these falling pistols. Sign up for my Rude Awakening e-letter for FREE today to see how you can trade these trends for huge gains…