How to Use Market Forecasts to Your Advantage
Behold! I have a foolproof, unbreakable, 100%-guaranteed stock market prediction for you this morning…
Summer is finally over. I've made the appropriate sacrifices and renewed my allegiance to the demonic league of market magicians. Now, you may watch in amazement (or terror!) as I gaze into my crystal ball to reveal exactly which direction stocks will move during this new trading month…
But before I reveal my exclusive market prediction, let's check in with our trading expert Jonas Elmerraji…
"I have a love-hate relationship with forecasts and predictions," Jonas says. "Good traders don't try to predict when an important price move is going to happen – we just react when it does. But forecasts can be very useful for figuring out context in trading. They help us gauge our risk/reward, and they're useful for the rest of your non-trading portfolio, too."
Hmmm… maybe I'll drop my Carnac the Magnificent routine and we can take a more useful approach to the prediction business.
"Yes, this summer has been fairly quiet, but it's also been pretty productive from a trading standpoint; we've been able to squeeze some solid gains out of the market over the last couple of months," Jonas continues. "The summer doldrums everyone was expecting earlier this year? Never happened. Instead, stocks followed the exact same technical playbook that I've been harping on all year long. Now, the question is where stocks are going to be headed in September…"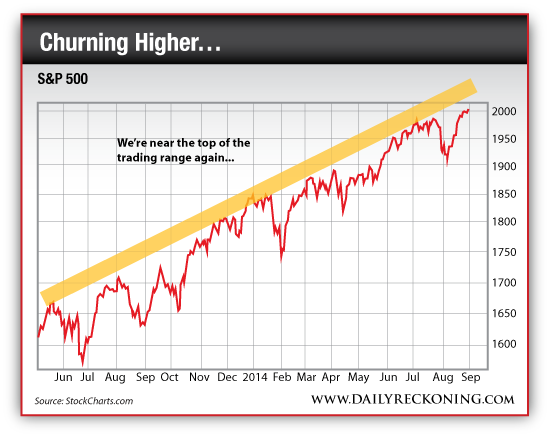 Jonas notes that the S&P 500 is closing in on the top of its trading range again — which has typically been followed up by sideways consolidations ranging from one to two months.
"I'd expect stocks to track sideways and slightly higher for the month of September," he says. "That's being confirmed by one of the statistical technical programs in our toolbox. Based on the big index's recent price action, our software puts the S&P 2.2% higher a month from now with 90% probability. That's one of the highest confidence levels, I've seen from this software, and it's important context that we should be keeping in mind as we trade in September."
Of course, as Jonas explained earlier, good market forecasts are subject to change.
Regards,
Greg Guenthner
for The Daily Reckoning
P.S. If you follow the trends and pay attention to important levels such as the S&P's big, obvious trading range, you'll come out on top. Sign up for the Rude Awakening for FREE today to see how you can trade the trends for huge gains…