How to Win Big in Casinos
Looking to make some money at your local casino this month?
Bet on red.
The big news this week is the $2.4 billion Revel Casino Hotel has closed its doors this week after just two years of operation. The luxury resort was supposed to offer a much-needed jolt to Atlantic City as smaller, local casinos continue to poach customers up and down the East Coast.
As a result, casino stocks are feeling the heat. Most of the big names in gaming are experiencing critical breakdowns.
Back in late April, I wrote that casino stocks were beginning to roll over. The gaming industry has been under a lot of pressure lately — a situation that first presented itself in the charts. The powerful, multi-year uptrends started looking shaky. It wasn't long before the cracks turned into panic.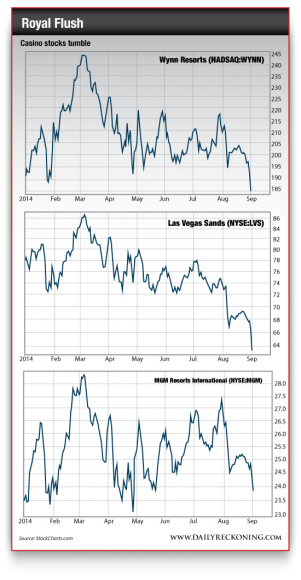 Yes, casinos were one of my favorite longer-term plays for quite a while. The weekly charts were set up beautifully, with stocks like MGM Resorts International (NYSE:MGM) sporting perfect, orderly uptrends. If you bought MGM in late 2012 and sold this January, you would have walked away with a clean double. But today, your best bet would be to walk away from gaming stocks entirely — unless you're looking to sell them short…
In fact, the gaming sector appears to have topped out in early March. Now, this group of stocks looks like it could completely bread down. MGM is barely hanging onto breakeven. WYNN is down 3% on the year. Las Vegas Sands shares are off by more than 18%.
Right now, I think WYNN has the best looking short setup. The stock was down 4% yesterday, so it's probably not the best idea to try and chase it lower. However, you could consider shorting any relief rallies as long as the stock stays below $190.
Regards,
Greg Guenthner
for The Daily Reckoning
P.S. For more on this sector — and for your chance to discover a few other great stocks to short this time of year — sign up for my Rude Awakening email edition, for FREE, right here.