Advice on How to Trade the Biggest IPO in History
One of the most important tech companies in the world is about to go public.
Billions of dollars are at stake. But more importantly, investors' reaction to this initial public offering could set the tone for how the stock market behaves this month — and the rest of 2014, for that matter.
Here's the story…
Next week, you're about to see what could be the biggest initial public offering in history. The IPO is so big, in fact, that the company has multiple mega-banks helping to lead the deal. And if it raises the estimated $20 billion-plus on its first day of trading, it will easily dwarf the Facebook and Twitter IPOs that recently dominated the financial news cycle…
The name of the company is Alibaba. It's the largest e-commerce company in the world. And it's based in China (which is why you might not have heard of it before). Just how big is Alibaba? Well, once it goes public, it's estimated that just three tech firms will boast bigger market capitalizations: Apple, Google and Microsoft.
Need more numbers?
"Alibaba is the most popular destination for online shopping, in the world's fastest growing e-commerce market," the Wall Street Journal reports. "Transactions on its online sites totaled $248 billion last year, more than those of eBay and Amazon.com combined."
Not too shabby…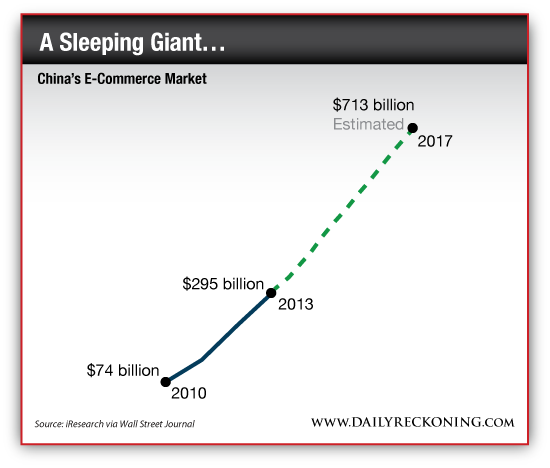 Of course, expectations for Alibaba are already red-hot. That could rattle the markets a bit if the stock doesn't immediately gain traction.
Think back to the Facebook IPO. Two years ago, Facebook shares hit the market for the first time. Everyone was convinced the stock was going to be a hit. But after it hit $45 during its first hour of trading, shares started to slump. Three months later, Facebook stock was below $18, dragging down other social media and some tech stocks with it.
I suspect we could see a very similar scenario should the Alibaba IPO fall flat. Much like Facebook, I don't think the slump would last longer than a few weeks or months, but it could be enough to spook the market — especially when it comes to the social media and tech stocks that have sprinted back toward their highs recently.
As with all IPOs, patience is required. Sometimes, you'll see an offering hit the ground running (GoPro is a great example — it hasn't skipped a beat). But most of the time, it's good to let the stock get on its feet with a little price history. Don't jump on this deal just yet. Let's see how it trades first…
Regards,
Greg Guenthner
for The Daily Reckoning
P.S. Looking for more potentially profitable IPO trades? Sign up for the Rude Awakening for FREE today to see how you can trade these trends for huge gains…