Big Bucks from Bitcoin's Major Bug Fix
Remember this guy (pictured right)?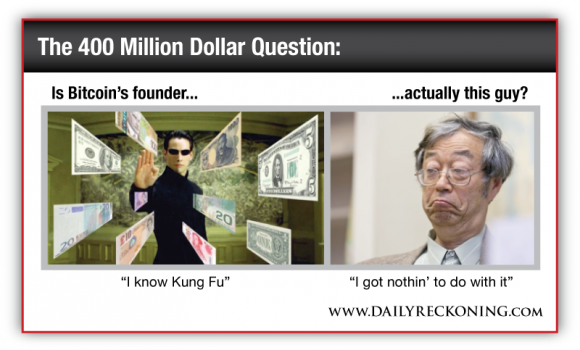 The eccentric, reclusive and mathematically brilliant engineer was bewildered back in March when news reporters swarmed him outside his California home.
To their disappointment, he was not the man they were looking for: Satoshi Nakamoto, the mastermind who created Bitcoin.
The real identity of the psuedonym Satoshi Nakamoto may forever be a mystery. But hiding in plain sight, there is a man who is perhaps more responsible for the future of Bitcoin. And in fact, he was blessed and appointed by the real Satoshi Nakamoto, whoever he or she is, as Bitcoin's successor in late 2010.
That man is Gavin Andresen.
In the early days, Gavin would send code tweaks and improvements to Nakamoto, long before the price of Bitcoin became an unprecedented financial investment. Satoshi's protege became the only one to have contact information on the Bitcoin project's homepage.
Now, the mild-mannered programmer has so much clout in the Bitcoin community that even the CIA and Washington regulators seek him to explain the cryptocurrency.
As MIT Technology Review says,
"Andresen has had and maintains more influence than anyone else on the code that determines how Bitcoin operates — and ultimately whether it can survive. Although there is no central bank for the currency, its design needs significant changes if it is to become widely used. How Andresen wields his power over Bitcoin will shape not only its fate but also the prospects for other virtual currencies."
Finally, although Bitcoin has no central authority, the closest thing, according to Forbes, is the nonprofit Bitcoin Foundation, which Andresen founded in 2012.
The point is, if there's anyone who can give us an idea of where Bitcoin and its "sub" cryptocurrencies are headed, it's Gavin Adresen. So what does he predict?
Andresen puts Bitcoin in 2014 on the level of personal computers in 1975 and the Internet in 1993. "Bitcoin at its most fundamental level," he says, "is a breakthrough in computer science — one that builds on 20 years of research into cryptographic currency, and 40 years of research in cryptography, by thousands of researchers around the world.
"We say this is going to be the year of the multisignature wallet," he said of what 2014 would see for Bitcoin.
Multisignature means that a transaction must have more than one private key or encryption code that labels your Bitcoin. Right now, multisigs, as they're called, are used by more technical users, but that's changing.
Breaking into a multisignature account, for example, would mean that a thief would need to hack your computer plus all the corresponding code in the online wallet servers.
So if you're thinking about signing up for any Bitcoin service, ask if they use a multisignature wallet — that's the best way to protect your money with Bitcoin. As it turns out, the Bitcoin ATM idea we covered Tuesday, Wednesday and Thursday is open to multisignature wallets — Robocoin BTMs in particular.
In short, the Bitcoin network cannot process more than seven transactions a second.
You should be aware of what Gavin believes is a serious flaw with Nakamoto's design that desperately needs correction if Bitcoin is to fulfill its global ambitions.
In short, the Bitcoin network cannot process more than seven transactions a second.
As more people shy away from price speculation and instead pay for goods and services, that processing capacity must increase. Right now, roughly one Bitcoin transaction happens every second — so there's still some room there.
But companies like Visa, for example, process "almost 480 transactions a second worldwide and can handle up to 47,000 a second at peak times," according to one source.
Any technology that could solve this problem would be worth a lot to the community of cryptocurrency users. We'll be searching for that solution in the meantime.
As Bitcoin awaits its upgrade via the multisignature wallet, and as programmers work to fix its major bug… those outside the network are finding a way to connect.
…a few months ago, Google added Bitcoin's price converter to their search engine, which they do for all national currencies.
Of all the major tech giants — Amazon, Microsoft, Apple — Google has proven to be the most receptive to converse about Bitcoin. They've gone on record saying that virtual currencies are inevitable, and they have opened up discussions with those on Reddit (nicknamed "the front page of the Internet") and elsewhere, which have spurred conversations about how Bitcoin wallets would coincide with Google wallets. And only a few months ago, Google added Bitcoin's price converter to their search engine, which they do for all national currencies.
In mid-July, Dell.com became the largest e-merchant to accept Bitcoin. You can buy their futuristic-looking Alienware desktop (your editor's first few computers) with nothing but Bitcoin. AirBaltic, a Latvian airline that sells tickets to 60 destinations throughout Europe, the Middle East, Russia and the CIS, just became the world's first airline to accept Bitcoin. Add to that TigerDirect, a major online retailer of computers and consumer electronics.
The adoption of Bitcoin really hit home for your editor this week as he put an offer down on a house. Did you know there are people who have used Bitcoin in every step of the house-purchasing process? One fellow from Texas bought some bitcoins before the price spiked and paid off a 30-year mortgage on a house in two years. Another listed his bitcoins as an asset — virtual property — and his bank counted it in his favor for a home loan! And now your editor is looking at the world's largest online retailer, Overstock.com, which accepts bitcoins, to furnish his house!
What the future holds for this technology is unknown… but our best guess?
Bitcoin isn't going away. If anything, virtual currencies are just getting started.
Have a great weekend!
Best,
Josh Grasmick
for The Daily Reckoning
P.S. Had you invested in Bitcoin when our little firm first reported it, your investment would be 50 times what it was. Can you really afford to miss the next breakthrough investment idea that could redefine your life in ways you've only dreamed? In the FREE daily Tomorrow in Review e-letter, we deliver exactly that. Don't wait another second! Sign up for Tomorrow in Review for FREE, right here.