The Solar Sector's End of Year Rally Starts Right Now
Solar stocks — one of my favorite long-term trading themes over the past 18 months — look poised for a potential run.
That's a far cry from what we were seeing from this industry just a few short weeks ago…
As the market slumped in July, solar names were blacking out left and right. Earnings were downright bad for some of the leading solar names. Investors were bracing for a possible correction. And the S&P had dropped nearly 5% from its highs.
That's when I warned you that solar stocks might be in for more downside…
"With solar costs getting cheaper by the year, the industry is starting to get competitive. But the story isn't matching up with the price action right now," I wrote. "With the Guggenheim Solar ETF (NYSE:TAN) breaking down below its 200-day moving average yesterday, its time to step aside. If TAN loses $37, we could see an even bigger drop before the fourth quarter even begins."
But TAN didn't lose $37. Heck, it didn't even close below $38. Now, after a strong performance in August, solar stocks are knocking on the door once again…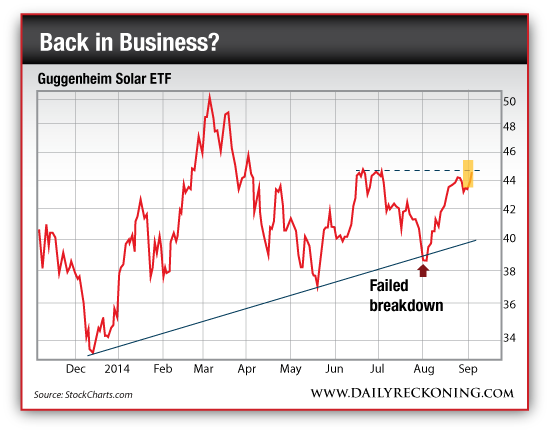 So what's powering the solar comeback?
It could be that the crappy second quarter earnings results probably won't spill over into the fall.
"Solar-power companies have attracted fewer investors than what's warranted by their performance, with 'solid growth' in store for the months ahead," MarketWatch reports. "Despite some lackluster second-quarter results, several solar companies have told Wall Street they expect double-digit growth in the second half of the year, a period that traditionally has made up for the seasonally lackluster first and second quarters."
Also, Chinese solar stocks could help buoy the industry. Yingli Green Energy Holding Co. (NYSE:YGE) jumped more than 6% yesterday, while Trina Solar Ltd. (NYSE:TSL) is also on the verge of an upside breakout.
According to Bloomberg, YGE's monster run was sparked due to guesses that "a global supply glut that has weighed on component prices is easing". Whether that's true or not, these mini-breakouts could spark something big in solar this month — even if the S&P struggles.
Right now, it's important not to jump the gun and dive headfirst into solar stocks without some confirmation. TAN looks pretty good here — but it didn't finish as close to its highs of the day as I would have liked. Wait for a close above $45 before considering getting back into this trade.
Regards,
Greg Guenthner
for The Daily Reckoning
P.S. I've got my eye on this sector. And you can bet I've got a few other solar stocks up my sleeve. To get a chance at discover some of the best stocks in this and a variety of other sectors, sign up for my FREE Rude Awakening e-letter, right here.