Massive Investment Opportunity at 90,000 Feet
Ed. Note: On the seventh of every month (unless it falls on a weekend), the FREE Tomorrow in Review e-letter features their "7 Things You Need to Know" series, courtesy of scientific and financial journalist Stephen Petranek. Below is the first of these 7 important points…
1. How High Can You Fly Without an Engine?
The Smithsonian National Air and Space Museum on the Mall in Washington, D.C., is the most visited museum in the United States. But few of its fans seem to realize that adjunct to the museum at Dulles Airport in Virginia, about 30 miles away, contains many more flying machines in three hangars that dwarf the presentations at the primary museum.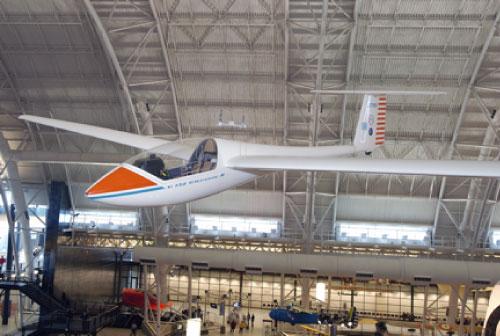 On June 4, 1997, Robert Harris and his wife, Susan Rothermund, donated the Grob 102 to the National Air and Space Museum.
High up in the Boeing hangar at the Udvar-Hazy branch of the museum, which contains the Enola Gay, the B-29 Boeing Superfortress that dropped the atomic bomb on Hiroshima, is a tiny 22-foot-long but elegantly sleek white sailplane that looks somewhat out of place because just about every other craft here has an engine or a rocket. It's a German-built Grob 102 Standard Astir III, an evolved version of a plane designed by Burkhart Grob and first flown in 1974. More than 1,200 Grob 102s have been built.
The plane earned a coveted spot at the museum because it flew higher than the biggest and highest-flying commercial jets and did so without an engine or power source of any kind. On Feb. 17, 1986, Robert R. Harris began climbing on weak thermals in that Grob 102 after being launched from an airport in Central California's Owens Valley.
It took him awhile, but he fought his way up to 35,000 feet.
This was nothing new for Harris. Off and on, he had spent the previous five years trying to break the sailplane altitude record of 46,267 feet, set in 1961.
The highest he had gotten was about 40,000 feet.
That afternoon, Harris managed to catch a wave in the sky no one could see. It was a standing wave of air flowing over the Sierra Nevada mountains, a wave not unlike the kind of wave that forms as water flows over boulders in a fast-moving river.
When Harris latched on, he began shooting up at about 800 feet per minute. At 38,000 feet, the cockpit canopy frosted over, and Harris, blinded, had to turn to instruments alone to remain in control.
By the time he reached 42,000 feet, the temperature in the cockpit had plummeted to about 60 degrees F below zero, and his tearing eyes were making a lacework of ice on his face. At 49,009 feet, Harris' oxygen failed, so he turned on an emergency supply and dove back to a landing — with the world's glider altitude record.
Harris' record stood for 20 years, and lots of other pilots tried to beat it.
Using the same theory of standing air waves flowing over mountains, adventurer and businessman Steve Fossett and NASA test pilot Einar Enevoldson, wearing sophisticated pressure suits, tried for five years from three countries to break the record.
Finally, on Aug. 29, 2006, Fossett and Enevoldson barely beat Harris and set a new record of 50,727 feet over Argentina.
Fossett was so excited by the project that he agreed to finance a far more ambitious idea — fly a pressurized glider to 90,000 feet — 17 miles above Earth, twice as high as the highest-flying commercial airliner can reach, and at least five miles higher than the U-2 high-altitude reconnaissance jet has ever flown.
The first attempt by Fossett and Enevoldson was called the Perlan Project. The 90,000-foot record attempt was dubbed Perlan II.
The atmosphere at 90,000 feet is thinner than that on Mars.
Climatologists theorize that a polar jet stream that hits a mountain range creates an air wave that can rise through the tropopause and into the stratosphere, near the edge of space. The Perlan II Project was formed to ride it. If successful, the attempt would take an unpowered aircraft 50% higher than any propeller plane has ever flown and would far exceed records held by all jet aircraft except exotic military jets and experimental craft, many of which added rockets to boost them to high altitudes.
The atmosphere at 90,000 feet is thinner than that on Mars.
To create enough lift in such thin atmosphere, the glider must accelerate to speeds near the speed of sound, called transonic. Many commercial jets fly at transonic speeds.
As the new glider design approached completion in 2007, Steve Fossett went flying in the Sierra Nevada mountains near the California-Nevada border.
The wreckage of his single-engine Bellanca Decathlon aerobatic plane was not found until more than a year later. Meanwhile, funding for the Perlan II project collapsed.
On July 28, the Perlan II Mission announced that Airbus Industries has agreed to back the idea. The new glider, to be built in Oregon, will begin flight tests next July. An attempt to reach 90,000 feet is scheduled for 2016 from Argentina.
More to come tomorrow…
Stephen Petranek
for The Daily Reckoning
Ed. Note: Along with the above article, readers of today's Tomorrow in Review e-letter also received an actionable investment idea connected to this story. And it's not the first time. Reviewers learned how aerospace enterprise is lucrative when, in the span of one month, they saw 70% gains on a company with NASA-approved technology. If you're not getting the FREE Tomorrow in Review e-letter, you're missing out. Sign up for our daily FREE tech e-letter, right here, now.