One Hated Sector Set for Huge Gains in 2014
Worried you won't find a way to squeeze more gains out of the stock market this year?
Look no further than emerging markets…
While investors and the financial media continue to wring their hands over a potential correction in U.S. markets this fall, a basket of key emerging market stocks are quietly sneaking higher.
The iShares MSCI Emerging Markets ETF (NYSE:EEM) is sprinting toward new year-to-date highs this month. After a 1.75% gain last week, EEM is up a little less than 11% this year compared to a gain of 8.6% in the S&P 500.
One of the big reasons emerging markets are getting a boost as we head into the fall is thanks to a furious 2-month rally in one of the most hated markets in the world right now…
I'm talking about China.
After years of underperformance, Chinese stocks are beginning to wake from their slumber. The Shanghai Composite has risen 13% over the past eight weeks. Today, we find it in breakout territory.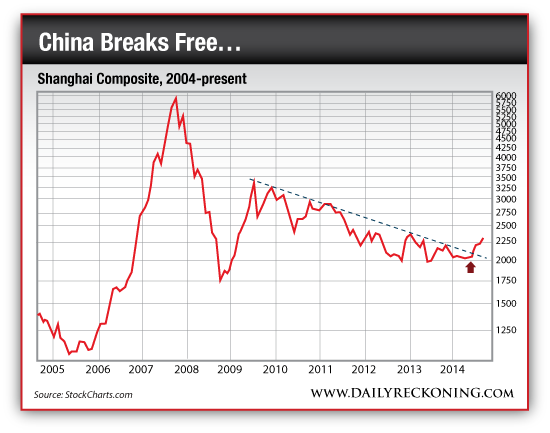 Just look at how Chinese stock are waking up after wandering lower for five straight years. If that price action doesn't get you excited, you should probably quit investing altogether. Maybe you could start collecting nickels instead. It's not ever day (or every year) you come across choice setups like you're seeing in this chart…
Late last year, I told you 2014 could be the year that emerging markets finally start get their act together. And as of early this year, China has topped my list of emerging markets that could make the most noise.
Why? It all comes down to sentiment…
China is now one of the most-hated markets in the world. Back in February, Chinese manufacturing was sinking to 3-month lows. And Chinese stocks were making news for all the wrong reasons — whether it be pollution or ghost cities or some other incredible disaster. So of course, everyone was expecting its economy to tank this year. I'm sure many folks still think China is a losing bet.
But the charts are telling me something completely different. As I've already shown you, the Shanghai Composite is taking out a key breakout zone. While everyone is sour on Chinese stocks, you now have an opportunity to ride a wave of disbelief if the market begins to take off…
Regards,
Greg Guenthner
for The Daily Reckoning
P.S. To get an even more in-depth look at this and other great investment opportunities, sign up for the Rude Awakening for FREE, right here..