2 Breakthrough Discoveries that Could Save Countless Lives
Ed. Note: Yesterday the FREE Tomorrow in Review e-letter began its monthly "7 Things You Need to Know" series with the first insightful contribution from scientific and financial journalist Stephen Petranek. (In case you missed it, you can read it for yourself, right here.) Today, he returns with the next two installments of his series. Read on…
2. Are Humans to Blame for Rising Mercury Levels?
If you live in the United States, you are constantly bombarded by a poison of great significance that creeps into your water, the air you breathe and the food you eat — mercury. It primarily comes from the 650 or so coal-fired power plants that are ubiquitous in the United States, but large quantities also come from the making of common cement we use to build our cities and highways. Additional large quantities come from the 620 coal-fired power plants in China and travel here on high-altitude winds.
The amount of mercury in shallow seawater (300 feet or less) has tripled since the Industrial Revolution.
According to Ecoeos, which has a test to show which persons have a higher-than-normal gene sensitivity to this toxin, mercury also comes from amalgam dental fillings, cosmetics, batteries, fluorescent light bulbs, thermometers, paint, jewelry, thimerosal in vaccines, disinfectants and antiques.
Mercury is a neurotoxin, and even small amounts affect the way we feel and think. Mercury can impair memory, blood pressure and vision and create tremors and kill you. Evidence is growing that even small amounts of mercury can cause heart disease. Mercury is linked to hundreds of childhood disorders, and pregnant women and small children must be guarded from exposure as much as possible.
Until this past month, no one has ever been able to say just how much of the mercury that ends up in humans has come from human activity itself rather than from the natural erosion of rocks and other geology. Now we can.
A marine scientist who has been studying mercury for 24 years at the Woods Hole Oceanographic Institute has just had a paper published in the journal Nature that says the amount of mercury in shallow seawater (300 feet or less) has tripled since the Industrial Revolution.
The study has involved 12 sampling cruises over the last eight years and has been supported by Wright State University, Observatoire Midi-Pyrenees in France, and the Royal Netherlands Institute for Sea Research.
A major fact emerging from the research is that the amount of mercury in the ocean could double again in the next 50 years because of increasing industrial activities that spew mercury.
The study also suggests mercury contamination in fish may be a larger problem than anyone has realized. At least a billion people on the planet depend on fish for the vast majority of their protein.
Although Ecoeos has developed its genetic test for mercury sensitivity, the company has not marketed its test kit yet. The company can be reached at info@mercurywise.com
3. Songs Migratory Birds Don't Want to Hear
The so-called civilized world is really tough on birds. In the United States alone, somewhere between 100 million and a billion birds are killed each year when they fly into buildings, unaware that glass is not air. About 40 million birds die every year when they fly into man-made towers for TV, cellphones and microwave, apparently attracted by lights on the towers.
More than 50 million birds a year fly into moving automobiles and die. High-tension and closed-phase wires electrocute at least 100 million birds a year. Pesticides probably kill about 75 million birds a year in this country.
And we're not counting deaths caused by wind turbines, oil spills, airplane collisions, fisheries and household cats, which are thought to kill hundreds of millions of birds a year.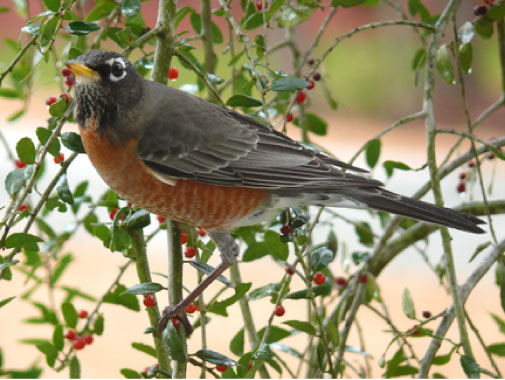 "We wanted to make sure that we could really document that what we were seeing was real," says Mouritsen, who invested seven years organizing double-blind tests, independently conducted by successive generations of students.
Far more important than all the man-made threats to birds like wires and buildings and towers is the constant erosion of natural habitat for birds.
About 10 billion birds breed in North America every year, and fall migratory populations may be as high as 20 billion. There are 836 bird species protected by the Migratory Bird Treaty Act, and more than 200 of them are facing serious declines in population. About 80 are on the endangered species list.
As if the cumulative effects of human behavior were not frightening enough, comes an alarming multiyear study from a scientist at the University of Oldenburg in Germany that shows songs and words broadcast on the AM radio band disrupt a bird's ability to navigate.
Henrik Mouritsen has long studied how birds orient themselves to the Earth's magnetic field in order to migrate twice a year. But he, like many other researchers, tended to locate his studies in rural areas.
…advocates for birds have begun questioning whether humans should allow broadcasting in the AM frequency range.
When he moved to Oldenburg, a city of 160,000, he found that his research birds — robins — could not align themselves to their migratory routes. As is typical in this line of research, the birds are kept in wooden boxes to prevent them from seeing stars or the sun, thus ruling out celestial objects as variables in how the birds navigate.
Mouritsen's robins had always been able to navigate by sensing the electromagnetic waves emanating from the Earth's gravitational field, a fact discovered about 50 years ago. Mouritsen tried all kinds of experiments to determine the cause of the robins' loss of navigation skills, and then one day decided to cover the wooden cages with aluminum foil and ground the foil in order to eliminate electromagnetic waves in frequencies from 5 megahertz to 50 kilohertz — the range of AM radio transmissions.
Suddenly, the birds could navigate again. Mouritsen was so afraid that his research might be wrong and he might be seen as a crank that he withheld the information for seven years and repeated the experiments over and over until he was absolutely certain the effect is real.
Since the research was published in the journal Nature recently, advocates for birds have begun questioning whether humans should allow broadcasting in the AM frequency range.
More to come tomorrow…
Stephen Petranek
for The Daily Reckoning
P.S. Readers who received the Tomorrow in Review FREE e-letter in their inbox today learned about these two stories ahead of the crowd. More importantly, they were also given an actionable investment idea on how to invest in a breakthrough technology that could redefine human health forever, as radical as it sounds. They'll also be receiving five more big ideas happening in science, tech and medicine this week. To get the next issue, sign up for Tomorrow in Review right here.