What a Small-Cap Rally in August Means for the Rest of 2014
Take a break from all of your daydreaming about Apple's new iWatch and the iPhone 6…
That can wait.
This morning, it's time to talk small stocks.
As you already know, small-caps aren't having the greatest year. The Russell 2000 small-cap index has remained stuck in a back-and-forth trading range for months. Year-to-date, it's up a measly 0.75%, while the S&P 500 has climbed nearly 8.3%.
But the past six weeks have been different. During the market's comeback move last month, the Russell 2000 actually beat out its large-cap cousin, the S&P 500. While the S&P has jumped about 3.7% since August 1st, the Russell is up a cool 4.7% over the same time period.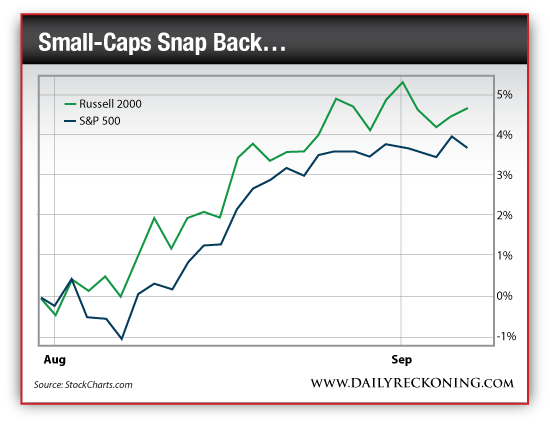 So here's the big question…
Can the Russell break free of its lackluster performance and return to its place as a market leader?
As of this morning, the Russell remains about 3% below its all-time high. It halted its sharp slide when the market started to turn around in early August. And now, it sits at a crossroads. Small stocks collectively need to make a move toward the higher end of this trading range that has held back shares sooner rather than later…
If small stocks fail to continue this rally toward 1,200, that could be a sign that more choppy, sideways trading is in store for investors heading into the fourth quarter.
Now, it's also important to point out that the market doesn't absolutely need small-caps to rocket higher in order for the bull run to continue. In fact, large-cap stocks can prop up the rally for a long, long time (heck, they've been doing that all year — remember the large-cap tech resurgence we've talked about time and again?)
But if you're banking on a small stock rally and we see failure here, it might be time to shift your focus to the big boys…
Regards,
Greg Guenthner
for The Daily Reckoning
P.S. If you'd like a clearer path to huge market gains, your best bet is to sign up for my Rude Awakening e-letter. In every single issue I give my readers a full rundown of my favorite market trend, 5 important numbers to watch throughout the trading day and no less than 3 specific chances to discover real, actionable profit opportunities. Don't miss a single chance at any of these incredible benefits. Sign up for The Rude Awakening, for FREE, right here.