Force Your Portfolio to Eat Healthier Food Companies
I'm not saying you have to eat healthy… But when it comes to trading in this market, it's time to put down that cheeseburger.
We are entering a watershed moment in the markets where health food is becoming mainstream. This week, food giant General Mills (NYSE:GIS) forked over $820 million in cash to buy Annie's Inc. (NYSE:BNNY), makers of organic mac and cheese that just went public a couple of years ago. The buyout was huge for Annie's shareholders. The stock jumped nearly 40% on the news.
More importantly, buyouts like this are marking a major shift in how consumers view their food options.
"The deal shows how big food companies are willing to pay up for brands that are seen as homespun and healthful," reports the New York Times. "Last year alone, Campbell Soup bought the baby food maker Plum Organics and WhiteWave, a dairy company that spun off from Dean Foods, agreed to pay $600 million for the organic produce grower Earthbound Farm."
The organic movement isn't just playing out in your local supermarket. It's showing up in the charts as well…
Need more proof? Just pull up a chart of McDonalds Corp. (NYSE:MCD):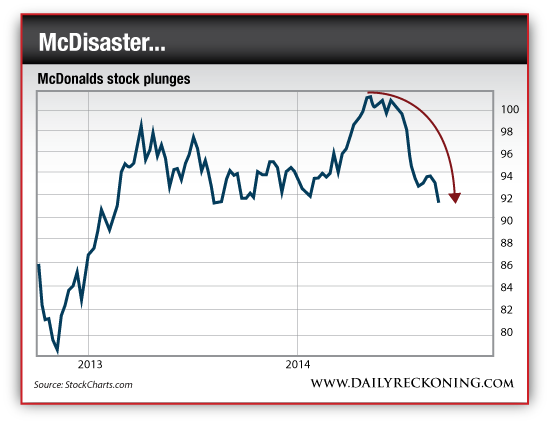 McDonalds shares took a hit yesterday after the company announced a 3.7% decline in global same-store sales. That's its worst performance in 11 years.
Consumers are speaking with their wallets. They're gluten free, low-carb, no-carb, organic and environmentally aware. Companies are quickly realizing that they need to shift focus to healthier options or risk losing market share.
Last month, I highlighted the crumbling charts of several casual dining stocks, including Red Robin Gourmet Burgers (NASDAQ:RRGB), Noodles & Company (NASDAQ:NDLS), and Potbelly Corp. (NASDAQ:PBPB).
"Restaurant stocks are cratering under the weight of some horrific earnings announcements," I wrote. "These mini-crashes are rippling across this once-trendy sector, crushing the trends of some high-flying industry mainstays and newer IPOs."
And what do all of these restaurants have in common?
They're all purveyors of "unhealthy" food — or at least that's how they're perceived.
Playing this trend is simple. Just ditch your traditional fast food and casual dining stocks for names in the organic and healthy food industries. Your portfolio will thank you…
Regards,
Greg Guenthner
for The Daily Reckoning
P.S. There's more to this story than I could fit here. And in today's issue of The Rude Awakening I gave readers a chance to discover my favorite plays in this sector. Not a Rude Awakening reader? No problem… You can sign up right here, for FREE, right now. Once inside, you'll receive an email directly from my desk every trading day right around the opening bell. And each issue is packed full of insight on how to navigate the markets that day, so you have the best chance to turn a profit. Sign up for The Rude Awakening, for FREE, right here to get started.