How to Trade the Great Commodity Crash
Commodities are falling through the floor.
Almost everywhere you look in the commodity market, you'll find carnage.
"Commodities fell to a five-year low on speculation abundant supplies and slowing economic growth outside of the U.S. will curb demand for raw materials," Bloomberg reports. "The Bloomberg Commodity Index declined to the lowest since July 2009. Brent oil traded at the cheapest since 2012, wheat, corn and soybeans retreated to four-year lows, and gold slumped to a seven-month low."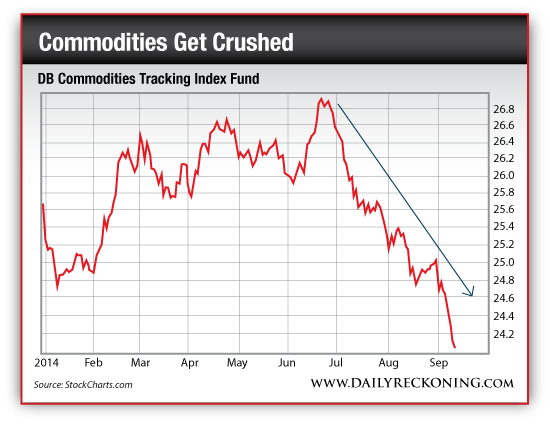 Want proof? Check out oil. You might not notice when you fill up at the gas pump, but crude is down 11% over the past three months. $100 oil? Forget about it. Today. A barrel of the light sweet stuff clocks in at about $93.
And it doesn't stop there…
Back In July, I showed you how grains were rolling over. No matter where you looked — wheat, corn, soybeans — all were down double-digits in just a few months. Heck, I was even bullish on corn much earlier in the year. Well, that uptrend corn was building back in the winter turned into a disaster in the spring (don't worry, we got off the corn bandwagon back in mid-May). Over the past five months, corn has dropped more than 31%.
Corn isn't the only casualty. Soybeans are down 27%. Wheat is down 23%. Then there are the metals.
Silver is slumping yet again. After a sharp rise in June, the poor man's precious metal started to weaken. It's now down about 7% on the year, forming a very bearish pattern on the charts…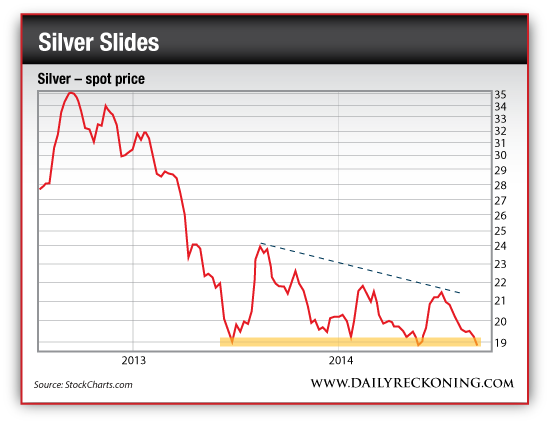 Just a few weeks ago, I told you not to waste too much time trying to squeeze money out of silver on either the long or short side. My caveat was that things could get interesting if we saw the July highs broken to the upside — or a breakdown below $18. Well, silver is getting awfully close to that $18 breakdown area. It's definitely time to start paying attention to this development…
Regards,
Greg Guenthner
for The Daily Reckoning
P.S. Looking to play the commodity carnage? Sign up for the Rude Awakening for FREE today to see how you can trade these trends for huge gains…