One Commodity Worth Buying Right Now
The commodities landscape is littered with a slew of unwanted investments.
But there is one commodity worth buying. I'll have that story for you in just a minute…
On Friday, you took a tour through the war-torn wreckage of the commodities market. I showed you all of the lowlights: the Bloomberg Commodity Index toppling to 4-year lows… Brent crude trading at its lowest level since 2012… Grains like wheat and corn pushing four-year lows (and soybeans, too).
The numbers are terrifying. Over the past five months, corn has dropped more than 31%. Soybeans are down 27%. Wheat is down 23%. Precious metals are rolling over…
But there is one potential savior in the commodities basket. It's been a reliable trade so far this year — and it could signal another low-risk buying opportunity for alert traders as early as today if its two-week dip is bought.
I'm talking about cocoa. That's right — the stuff that goes into your favorite chocolate bar is setting up once again for a potential trade. Over the weekend, I received a couple of emails regarding cocoa — one of the highest-flying commodities of the past two years. Readers like you want to know if it was time to bet against this high-flying commodity.
Sure, cocoa has enjoyed an amazing run. It was already a solid play in 2013, even as agricultural commodities as a whole got a thorough trouncing. Moreover, increased global demand has spurred price hikes in the chocolate market that producers have passed along to consumers over the past few years (you might have caught wind of candy manufacturers getting the squeeze from higher cocoa prices). Many have even resorted to supplementing recipes with alternative ingredients or even shrinking their serving sizes. That's because the price of the raw ingredients to produce a generic milk chocolate bar jumped more than 28% last year.
But cocoa has slumped along with other commodities this month. In fact, it's more than 7% off its August highs as I type…
So is cocoa's big bull run finished?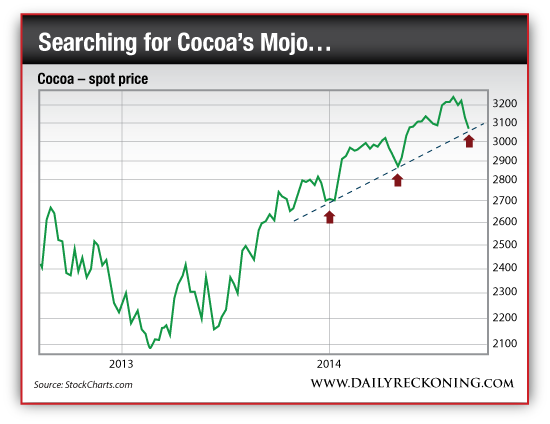 Maybe not…
Even factoring in its recent slump, cocoa is still up nearly 13% year-to-date. And despite its recent pullback, the commodity remains above critical support. If cocoa can bounce sometime this week and make a push higher, you have an excellent chance to hop onboard and ride the next wave in this trend…
Regards,
Greg Guenthner
for The Daily Reckoning
P.S. In today's issue of The Rude Awakening, I continued this conversation, detailing one more important trend and relaying 5 specific numbers to watch as the trading day progresses. If you didn't get it, you're not getting the full story. Sign up for the Rude Awakening for FREE today to make sure you never miss another great profit opportunity.