3 Terrible Trades You Need to Know About Right Now
If you're searching for signs of a potential market pullback, here's a hint:
Don't trust the Dow…
The Dow Jones Industrial Average posted a small gain Monday. According to the blue chip index, nothing interesting transpired. The evening news won't dedicate 30 seconds to a frantic stock market roundup. Your great-aunt Francine won't have a mini-stroke if she checks on her retirement account. On the surface, everything is just fine.
However, yesterday's action told the tale of two markets. Bubbling under the sleepy large-cap stocks was a flurry of activity. The most obvious disconnect was the Nasdaq. The tech-heavy index dropped more than 1% on the day. And it wasn't the only loser…
Here are three other groups that took one on the chin Monday…
First, small-cap stocks are beginning to roll over again. After a nice comeback rally in August, this group of stocks is turning lower.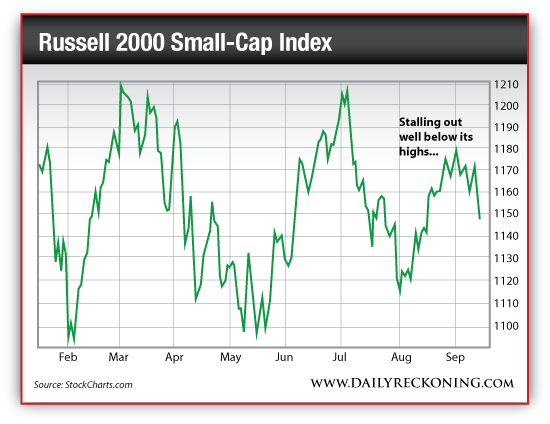 That's not exactly bullish. Also, it's important to note that the Russell 2000's performance relative to the S&P 500 is hitting its lowest level of the year. That means bigger stocks are outperforming small stocks by a mile.
High-octane momentum names also took a huge hit Monday. Social media stocks were among the hardest hit. Stocks like LinkedIn Corp. (NYSE:LNKD) were down more than 7%. Yelp Inc. (NYSE:YELP) also dropped more than 6%. The Global X Social Media Index Fund (NASDAQ:SOCL) — a measure of a handful of social media names — dropped almost 4% on the day…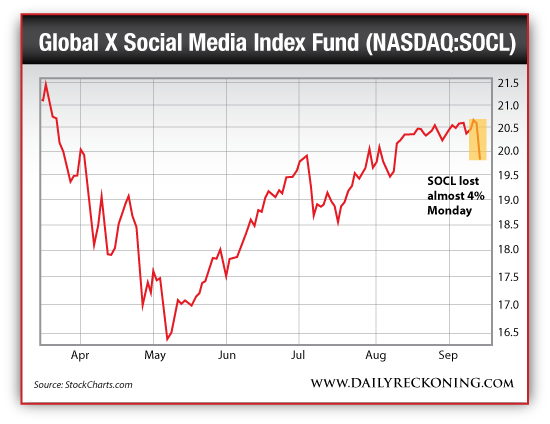 Yet another group of stocks on the brink is the biotech sector. I count a whopping 43 biotech stocks (forty-three… that's not a typo) that dropped at least 5% Monday. Of these, 20 fell at least 7%. Turning to the SPDR S&P Biotech Index ETF (NYSE:XBI), we experienced a drop of just a little more than 2% yesterday.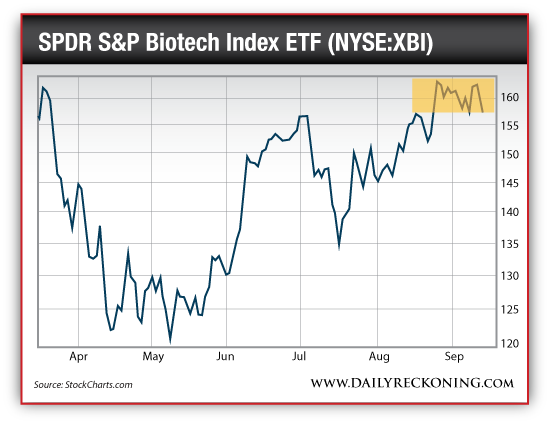 However, take note of the highlighted area. If XBI breaks lower from this sideways action we've experienced over the past few weeks, I'm expecting an even stronger pullback.
You can see how these warning signals are starting to pile up — even as the Dow pushes higher. While the evidence is pointing to a pullback, longer-term investors shouldn't feel the need to act just yet. However, if your focus is trading, you need to consider taking a defensive position. Selling winners and rotating out of popular momentum stocks is the way to go, here.
Regards,
Greg Guenthner
for The Daily Reckoning
P.S. In today's issue of The Rude Awakening, readers were given a chance to get a more in-depth knowledge on precisely how to trade these trends. It's just one small benefit of being a FREE Rude Awakening subscriber… They also get a list of 5 important numbers to watch and a rundown of my favorite trends to follow right now. And it's FREE! Don't miss another issue. Sign up for The Rude Awakening, for FREE, right here, and learn how you can stay one step ahead of the markets.