Invest in the Tech Revolution that Will Save the Power Grid
Time to return to a chilling prospect we first pondered back in April — an 18-month nationwide blackout.
Here's the good news: The risk of such a disaster will ease over time — not because of better security or surveillance, but because of what the smartest high-tech maven we know calls "the most disruptive technological force on the planet." This force could also prove one of the most lucrative.
As we mentioned last month in our essay "One ETF to Play Asymmetric Warfare", it wouldn't take much to knock out the nation's power grid: A study performed last year by the Federal Energy Regulatory Commission (FERC) found that on a hot summer day, smart saboteurs would have to disable only nine power substations across the country. (That's out of 55,000.)
"There has been nothing short of a technological revolution in solar power in the last five years…"
An April 2013 attack on a substation in San Jose, California, underscored this danger. Gunmen opened fire for 20 minutes, knocking out 17 giant transformers. They still haven't been caught.
Days after that attack, FERC's chairman Jon Wellinghoff spoke at a conference in New York. He suggested the solution lay in a more decentralized power grid. Sure, we'd still have giant power plants and semi-giant substations. But there would also be fuel cells and rooftop solar panels. "A more distributed system is much more resilient," he said. "Millions of distributed generators can't be taken down at once."
As it happens, "millions of distributed generators" is not a bureaucrat's pipe dream. It's the way of the future. It's, again, "the most disruptive technological force on the planet," in the words of our friend Stephen Petranek.
Stephen joined us at Agora Financial last fall as editor of Breakthrough Technology Alert. He brought with him a CV as long as your arm. He was a muckraking business reporter in the '70s, a magazine editor in the '80s and '90s. He reinvented Discover, the premier science magazine, for the new millennium. And he's delivered one of the most-watched TED talks of all time. (Search for 10 Ways the World Could End. If you get depressed, you can then watch another talk, 10 Things to Be Optimistic About.)
"When you plug your cellphone charger into a wall socket," he says, "you are probably connecting to one of about 500 coal-fired power plants in the United States. What if all of them were shut down by 2050?
"What if instead of getting your power from a centralized source, you got it from a small generating plant on top of your house or business or car? What if everywhere you went, no matter when you needed electricity, it came from a small local source, instead of a giant power plant?"
Think "solar power" and maybe the first thing that comes to mind is Solyndra, the company that got most of its funding from the 2009 federal "stimulus" bill and still went bankrupt.
That was then. This is now: "There has been nothing short of a technological revolution in solar power in the last five years," says Stephen, "as efficiencies continue to climb to levels that could not have been predicted. Half of all the solar projects ever built in the United States, including utility-scale arrays, residential rooftops and business photovoltaics, were installed in the last 2½ years."
Solar's moment has arrived. Consider what happened during the first quarter of this year, according to GTM Research and the Solar Energy Industries Association…
74% of all new power-generating capacity came from solar power (see chart)
For the first time, residential solar installations (232 megawatts) surpassed commercial installations (225 megawatts)
Solar now accounts for 14.8 gigawatts of installed capacity — enough to power 3 million homes.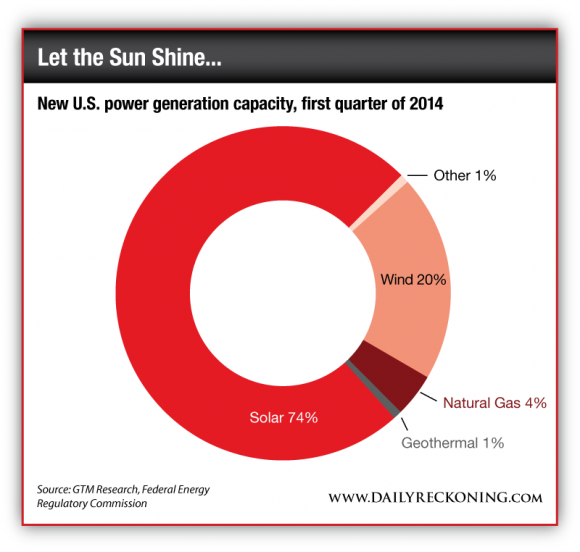 It's the middle class driving this growth, according to the Center for American Progress: "More than 60% of solar installations are occurring in ZIP codes with median incomes ranging from $40,000-90,000."
And on the corporate level, Stephen sees torrid growth: "Google has announced a plan to produce all its power needs from renewables, and plans to support the electrical needs of its new megaserver farm in North Carolina with solar cells. Wal-Mart has 215 solar-powered installations in the United States alone. Costco has 78 installations. Walgreens now has more than 150 solar installations, and 89% of the Ikea stores in America are solar powered. Verizon recently announced an initiative to invest $100 million by the end of this year to install solar and fuel cell power for 19 facilities across the country."
Keep your eyes on this space!
Regards,
Addison Wiggin
for The Daily Reckoning
Ed. Note: With so much growth potential in this and other areas of the energy sector, you can bet someone is going to make money here. Why shouldn't it be you? Sign up for Tomorrow in Review, for FREE, right here to learn more.