Here's the Market's Next Hot Sector…
A major market rotation is underway. And if you can spot this trend and hop on before the herds of unsuspecting investors, you'll make a killing this fall.
Here's the setup…
The Russell 2000 is down about 3.5% since July 1st. That might not trip any alarms for you—but the small-cap index's sub-par performance is putting it on track to end its longest quarterly winning streak ever.
According to my friend and fellow technician Ryan Detrick, The Russell's quarterly win streak of 8 is the index's best performance of all time—even topping two monster runs in the 90s.
So if small-caps are slipping, where can you find the next hot sector?
The answer might surprise you…
Before I talk specifics, let's dive into some strategy. I've said it before and I'll say it again: If you want to make consistent money trading stocks, you have to master the market's up and down cycles. You have to know when to buy with both hands—and when to hang back while all the other traders jump headfirst into the wood chipper.
Right now, momentum stocks are whipping back and forth. Small stocks are feeling the pain. Tech names are slipping. Consider these unexpected (but very true) statistics: 47% of stocks in the Nasdaq Composite are down at least 20% from their peak in the last 12 months, according to Bloomberg. Compare that to the S&P 500, where you'll find less than 6% of companies in bear markets.
If you take these comparisons a step further, you'll see that the Dow Jones Industrial Average is beginning to break out relative to the Nasdaq…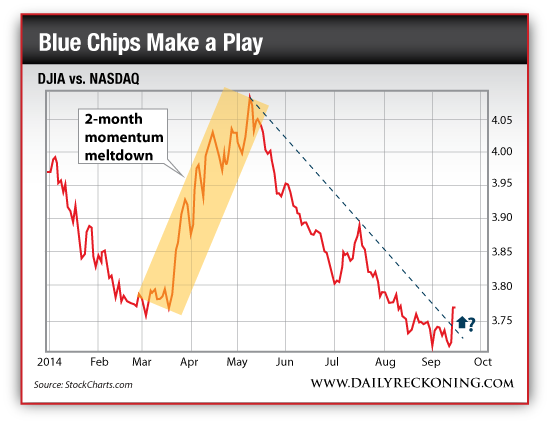 The last time the Dow outperformed the Nasdaq was during the spring swoon. As popular momentum names began their meltdown, the big boys took over. The Dow easily beat the tech-heavy Nasdaq for nearly two months before investors were ready to take back their "riskier" investments they shunned just weeks earlier.
Now, you can see how the Dow is breaking its downtrend vs. the Nasdaq. Remember, rotation is key. Don't get caught flat-footed if the momentum names start slipping. Utilities and blue chips are catching a bid. That's where you can hide out as this rotation begins to take hold…
Regards,
Greg Guenthner
for The Daily Reckoning
PS: If you want to make consistent money trading stocks, you have to master the market's up and down cycles. Sign up for the Rude Awakening for FREE today to see how you can trade these trends for huge gains…