Let the Alibaba IPO Show You Where the Market's Headed
Here's a riddle for you…
What's bigger than Amazon, China, and a name you're already sick of hearing?
Why it's Alibaba, of course.
One of the most valuable technology companies in the world is set to begin trading today on the New York Stock Exchange. As it opens near an expected $68 per share, its $168 billion market cap will immediately dwarf most other tech stocks on the market…
"By selling shares at $68, Alibaba will hit the top end of that modified range, a sign of strong investor interest in the most-anticipated public stock debut of the year and the largest in U.S. history," Forbes reports. "That title was previously held by Visa, which raised $17.9 billion in its 2008 offering."
Naturally, everyone is freaking out over the Alibaba offering. Folks are lining up to get their lotto tickets this morning — whatever the opening price might be.
Here's why you should hang tight…
Just a few weeks ago, I told you investors' reaction to this initial public offering could set the tone for how the stock market behaves this month — and the rest of 2014, for that matter.
Sure, Alibaba is the largest e-commerce company in the world. Transactions on its sites totaled $248 billion last year. That's massive. But expectations are equally high for this brand new stock.
If the Alibaba IPO falls flat, we might see a larger negative reaction in the markets. I don't think the slump would last longer than a few weeks or months, but it could be enough to spook stocks — especially when it comes to the social media and tech stocks that have sprinted back toward their highs recently.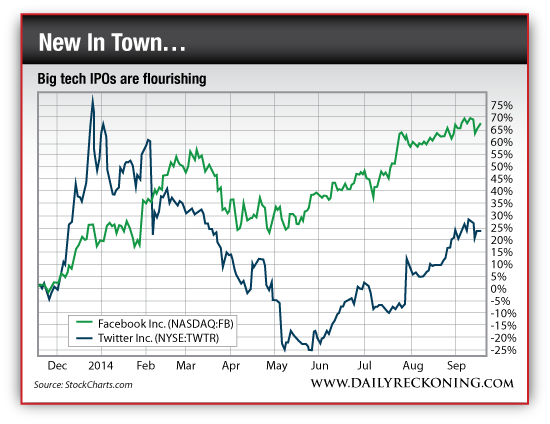 Still, it's been a heck of a ride for the big tech IPOs recently. Even after some initial disappointment, shares of Facebook and Twitter are having a tremendous year — even after a spring swoon cut into their respective gains…
Your IPO strategy should keep you away from Alibaba stock during its first few weeks of trading — even if you are just looking for a quick flip. Let this noise settle before considering a move…
Regards,
Greg Guenthner
for The Daily Reckoning
P.S. In today's issue of The Rude Awakening, I take this discussion one step further, and offer some more in-depth analysis of the day's market trends. In addition, I also provided my readers with 5 important numbers to watch, and 3 chances to discover real, actionable investment opportunities. It's all part of being a subscriber to my FREE Rude Awakening e-letter. Click here to learn how you can sign up for FREE, right now.